---
Abbaye de Cenon
Vielle Cure Liqueur Abbaye de Cenon 1920s
Vieille Cure, Societé Anonyme, Glass neck button
Provenance: Lombrail-Teucquam Varenne, 12/12/1998

Golden colored liqueur made in Cenon (near Bordeaux), until 1986, based on various eaux de vie (Fine Champagne and Armagnacs) and 52 mountain plants, sugar syrup and honey.
This bottle is being moved to our Miami, Florida warehouse. Leave your email address and we will notify you as it becomes available, and send you a 5% discount code for your next purchase.
World's Largest collection
3-5 day U.S.A. delivery
Secure payment
Call Us 954-607-7386
Email Us
| | |
| --- | --- |
| Size | 70 cl |
| Vintage | Non-vintage |
| Alcohol | 43.0 % |
| Bottled | 1921 |
| Button | Glass neck button |
| Fill level | High shoulder |
| Maturation | Vieille |
| Seal | Original cork damaged |
Liqueur
(We currently have no information available on this category)
Abbaye de Cenon
(We currently have no information available on this brand)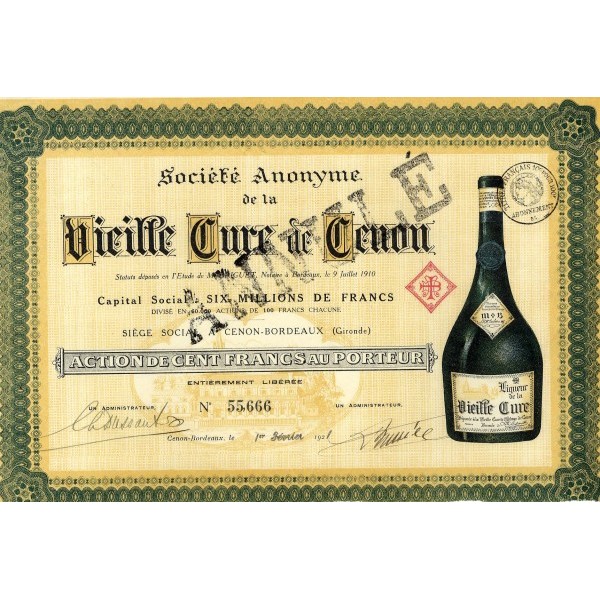 The distillery of the Old Cure (Vielle Cure) in Canon, France enjoyed its glory days in the early twentieth century. In 1866, Marcel Bussières (1835-1913) wanted to create a distillery in Bordeaux place Dauphine (now place Gambetta). But his request is rejected by the prefecture which considered the location inappropriate. Finally, it is in the heart of a vast area of 9 hectares on one of the most beautiful slopes of the town of Cenon, at "the site of the former monks' abbey he decides to implement his activity. The formula, based on 52 plants, was developed to create a yellow liquor, even golden which he named "La Chaleureuse". It was obtained by the application of several mountain aromatic plants, seed, and bark and various spirits, sugar syrup, and honey. In 1909, it received the name "Old Cure", the name of the property that bordered the church of Saint-Romain de Cenon. The adjoining image shows a stock certificate for Vielle Cure from 1921.