---
Port 1916 Rozès
Colheita Port, Vila Nova de Gaia
Provenance: Catawiki, 4/29/2016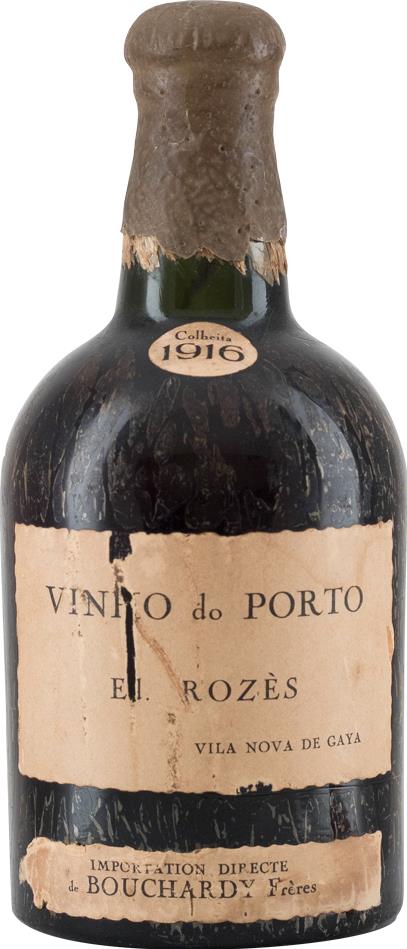 Questions about this piece?
Port
The early 1800s was a watershed era for the vintners of Portugal's Douro Valley, On one hand, the grape harvest of 1820, after fermenting and aging for four years, presented connoisseurs with a wine of remarkable sweetness, with "plenty of crust and plenty of color…and a well-stained cork," according to T.G. Shaw, who recorded his views in Wine, the Vine, and the Cellar (1863), The remarkable vintage established Portuguese wine as a favorite among the British.
Rozès
In 1855, Ostende Rozès, then a fine wine trader, founded the Rozès House. Then the 1910's - 1920's marked the beginning of the firm's success with Edmond Rozès, Ostende's son, who contributed substantially to the development of the company. He created the 'Rozès Porto' brand, using a bottle shape that enables the identification of both the brand and of the port wine. Hence, a Portuguese - shaped bottle with an old - fashioned presentation was marketed with a neck wrapped in sulphur zed paper and a wax-coated stopper.
Rozes is singularly unusual in that it is the only Port house founded by the French (which is slightly ironic in that the French are nowadays the biggest consumers of Port).
Although the company owns one of the oldest vineyards, Quinta do Monsul, it only contributes a very small quantity to the total output, with the majority coming from other top vineyards.
The company remained under family control until 1974 when the shares were split between Pedro Domecq and Taylor. Already 1978 Pedro Domecq sold theirs to LVMH group and 1999 this group also bought Taylor shares. In 1999 Vranken bought Rozes and in 2002 the company was merged with Sao Pedro das Aguias to form SPR Vinhos. Rozes and Sao Pedro das Aguias now share the same administrative, winemaking and storage premises in the Douro and Villa Nova de Gaia.
Source: Vintageport.se