---
Old Forester 86pf, French Export – Early 70s
Old Forester, Kentucky Straight Bourbon Whisky, No. X926196
Provenance: SAS Cornette de Saint Cyr, 6/15/2017
An old bottle of Old Forester Kentucky Straight Bourbon, which we believe to have been bottled in early 1970's, over 40 years ago, for the French Market. Rare, collectible and in good condition, this is an excellent piece for fans of classic Bourbon. The brand itself has been around for well over a century.
Questions about this piece?
Some details:

Size
70 cl
Vintage
Non-vintage
Alcohol
43.0 %
Classification
Bourbon
Fill level
High neck
Whisky
By the time Christopher Columbus set sail for the New World, religious orders in Scotland and Ireland had established a blooming whisky industry. In Scotland in 1494 Friar John Cor received a shipment of malt, "wherewith to make aqua vitae." While the monks used distillation to produce beverages for religious rites, Cor's delivery was large enough to produce some 1,500 bottles, indicating that whisky distillation had already transcended the spiritual world and entered the secular.
Brown Forman
(We currently have no information available on this brand)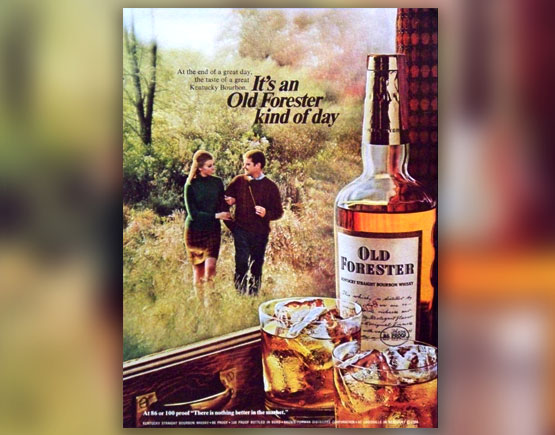 Old Forrester
Old Forester bourbon introduced by George Garvin Brown on Whiskey Row at 322 W. Main St. America's First Bottled Bourbon® was the first bourbon to be sold in sealed glass bottles to ensure quality, made according to Brown's 1870 Original Batch process of batching barrels from three distilleries to create a consistent flavor profile. The firm was named J.T.S. Brown and Bro.