---
Meukow & Co
Meukow Cognac Rarissime Tres Vieux 0,7 l
Rarissime, Très vieux, Bottle No. 22 of 600
Provenance: Christies, 12/10/1998

The Meukow Cognac Rarissime Tres Vieux is a super premium cognac of the famous cognac house Meukow, founded in 1862 by the Silesian brothers Meukow in Cognac, which is known for its first-class eaux-de-vie and the Russian tsars, the White House and the British House of Lords among its customers counts. The eaux-de-vie of this distillery are aged in small wooden barrels and then married to cognacs, which are second to none. They are bottled in typical, round-flat bottles with the trademark of Meukow, a jumping cheetah. An exception to this rule is the Meukow Cognac Rarissime Tres Vieux: this ancient Eau-de-vie is not an assemblage of different distilleries - the Meukow Cognac Rarissime Tres Vieux is bottled from a few selected barrels directly and in cask strength, without that an assemblage takes place. Since only very few old barrels are found to be good enough by the butler, only about 600 bottles of this exclusive cognac are launched each year. And these are not filled with the usual for Cognac alcohol content in the Meukow typical bottles, but in a cask strength of 41.3% in slim, high clear glass bottles with a traditional label. The Meukow Cognac Rarissime Tres Vieux shows in the glass a strong amber gold with coppery, shiny reflections and develops an incomparably elegant and complex Rancio aroma, which only the best cognacs in the world manage. On the palate, vanilla and woody elements combine with notes of dried autumnal fruit and a touch of cigar to create a perfectly balanced, exclusively-elegant taste experience. A super premium cognac for special occasions!
This bottle is being moved to our Miami, Florida warehouse. Leave your email address and we will notify you as it becomes available, and send you a 5% discount code for your next purchase.
World's Largest collection
3-5 day U.S.A. delivery
Secure payment
Call Us 954-607-7386
Email Us
| | |
| --- | --- |
| Size | 70 cl |
| Vintage | Non-vintage |
| Vintage text | Presumed 1900's |
| Alcohol | 41.0 % |
| Bottled | 1925 |
| Button | No button |
| Classification | Rarissime |
| Fill level | High shoulder |
| Maturation | Très Vieux |
| Packaging | No casing |
| Shape | Cognaçaise |
Cognac
Renowned throughout the world, the production of Cognac has been regulated by its very own AOC since 1909. Only liqueurs from eaux-de-vie made from crus from the controlled appellation area of Cognac can be labelled as such. This liqueur must be distilled and aged on-site in compliance with authorised techniques: double distillation in a copper Charentais still, ageing in oak barrels for a set minimum ageing period.
A good Cognac is subjected to a complex manufacturing process. It is never made from the eau-de-vie of a single cru, but from a `marriage' of eaux-de-vie that vary in age and cru - some as old as a hundred. To establish the age of a Cognac, only the number of years spent in oak casks or barrels are taken into account. As soon as an eau-de-vie is decanted into a glass recipient, it ceases to age. The longer it is left to age, the more a Cognac gains in complexity, fragrance, aromas and taste (spiced, pepper and cinnamon flavours).
Please note that only Cognacs made exclusively from Petite and Grande Champagne (50% minimum) can use the "Fine Champagne" appellation.
Meukow & Co
About 1900 this company enjoyed a very good reputation and was a supplier for The House of Lords in England and for The White House in the USA.
Nowadays Meukow belongs to the CCG group (Compagnie Commerciale de Guyenne or Compagnie De Guyenne, CDG) and it is the flagship of it.
Established in 1862 by two brothers, Auguste-Christophe and Gustave (Karl) Meukow, together with another partner, Lervoire.
1865 Lervoire passes down his shares to Henri Bouraud, who became partner.
In 1874 Bouraud handed his share of the company to the Scotsman Thomas Alexander Shepherd. Thomas Alexander Shepherd was born in Adelaïde, Australia where his father, Thomas Shepherd, had made his fortune. In the late 1830´s he had bought a large plot of land in a time that Adelaïde was just beginning to develop. He built the Marybank house, that still exists today. Around 1850 the family returned to Scotland.
1878 Auguste-Christophe Meukow died. In consultation with the heirs Shepherd acquired full ownership of the company.
1880 Shepherd handed the company over to Gustav Klaebich.
1899 (about) Meukow launched 'Cognac Grande Champagne, marque Napoléon'. But it was Courvoisier who knew how to commercialise the image of Napoléon in the first half of the twentieth century.
In 1914 the French State seizes the company from Klaebich, because he was German. In this period Meukow is one of the biggest cognac houses. The new manager for Meukow is Harold Butler.
After the war in 1918 the widow of Thomas A. Shepherd acquires the ownership from the French State. Harold Butler remained manager for more then fifty years; he also becomes a shared owner.
Duncan lauder Sheperd, son of Thomas Alexander, becomes the owner together with Harold Butler.
Around 1940 Duncan Lauder Shepherd and his wife and suns fled to England. His daughter Daphne marries with André Villesuzanne. Together with Harold Butler they continue to lead the company.
1968: Meukow encounters severe financial difficulties. Harold Butler sells his shares to André Villesuzanne, who also inherites the rest of the shares from Shepherd. André Villesuzanne becomes sole owner.
1978: sailes are down to almost zero.
1979: Michel Coste of the CCG-groupe buys Meukow and revitalises the company.
1995: Michel Coste designs a new logo for Meukow: the panther.
Nowadays the Meukow mark sells as much as in the beginning of the twentieth century.
They possess a rather big vineyard in the Petite Champagne district, but most of their cognac is being bought as eau-de-vie: 70% Fins Bois and 30% from both champagne districts. During the first two years the cognac is stored in new casks of limousin oak; after that the cognac is put in old casks, half of it made of Limousin oak, the otherhalf of Tronçais oak. When necessary they add sugar, caramel and wood extracts.
Range of cognacs:
VS this used to be a fine champagne; nowadays it is 100% Fins Bois.
VSOP, Fins Bois.
Napoléon
XO
XO grande champagne
Extra
Also some old cognacs: Rarissime, Drapeau, Fin de Siècle, Nec Plus Ultra, 1964, 1965, 1970 and NPU Baccarat.

Source: CognacTon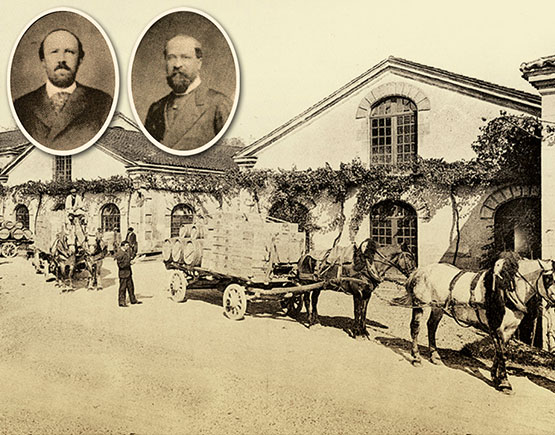 History
The Meukow House, established in the 19th century. In 1850, Auguste-Christophe and Gustav Meukow, two brothers from Silesia, were sent to France by Tsar Alexander II of Russia with orders to secure the supply of cognac for the Court. After several voyages, they decided to set up a commercial office in the town of Cognac and founded the A.C. MEUKOW Co. House on 1 August 1862.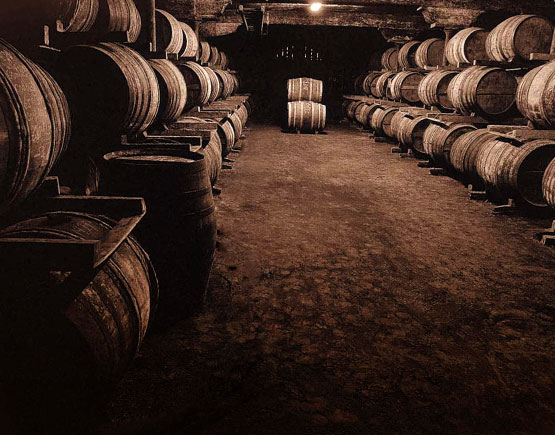 Independent group
Managed under the influence of illustrious shareholders such as Henri Bouraud, who was Mayor of Cognac from 1849 to 1869, the company increased from the very beginning as evidenced by the prestigious events held around the world. In 1979, Meukow became part of the Compagnie de Guyenne family owned and independent group, founded in 1969 by Michel Coste.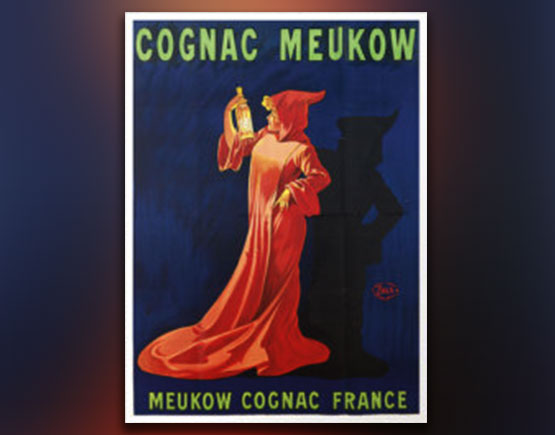 Distributed in 80 countries
Since that time and thanks to the support of the commercial structure of the group, Meukow Cognacs continued to beef up and develop their range. Meukow, in the present, is distributed in more than 80 countries. Nowadays, Philippe Coste, son of Michel, supported by his two sisters, Marie-Laure Brugerolle and Céline Viard, manages the business.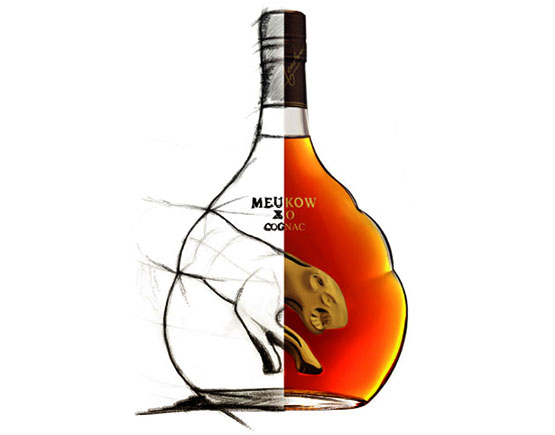 A Unique Identity
With the aim of reinforcing the unique identity of Meukow, Michel Coste searched for a symbol that would evoke the exceptional qualities of the cognac and differentiate it from other brands. The Feline bottle, adorned with the panther, which became the icon of the Meukow brand, was created in 1993.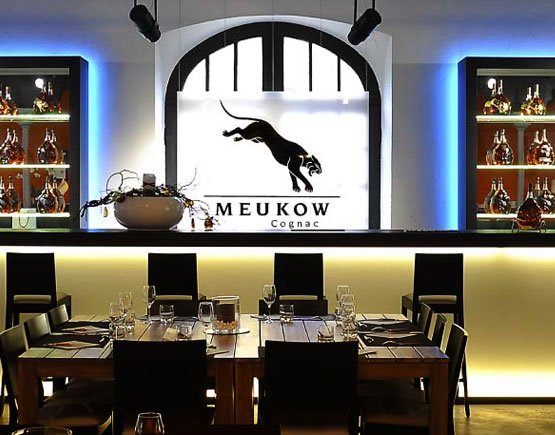 Panther Icon
This magnificent creature perfectly symbolizes the power, elegance, and suppleness that are the intrinsic qualities of Meukow Cognacs. Awarded "Pack d'Or" twice by the National Institute of Design and Packaging, the Feline bottle is an icon recognized as being evocative of quality and desirability.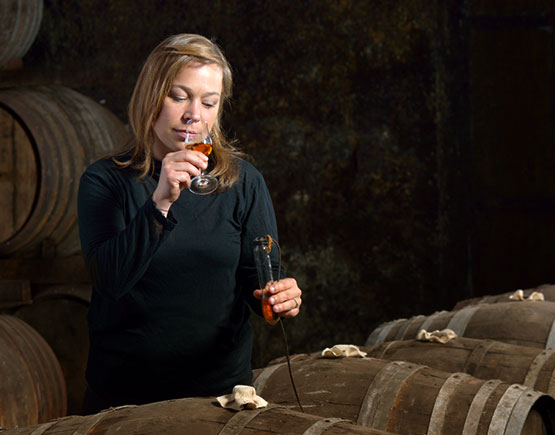 The Meukow Style
The perfect balance between power and suppleness that is characteristic of Meukow Cognacs is the result of the dedication of the Cellar Master. Anne Sarteaux, Cellar Master at Maison Meukow since 2007, continues the ancestral traditions and expertise passed from generation to generation.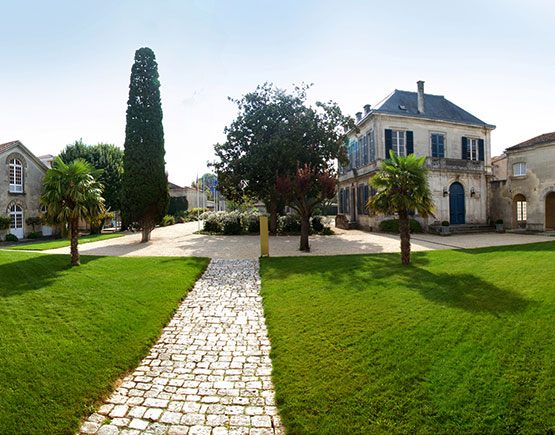 Different regions
Following the double distillation of the wine, the Cellar Master carefully selects the Eaux-de-vie that will age in oak barrels for at least two years. These Eaux-de-vie come from the six different regions that form the cognac AOC (French Protected Designation of Origin): Grande Champagne, Petite Champagne, Bons Bois, Fins Bois, Borderies and Bois Ordinaires.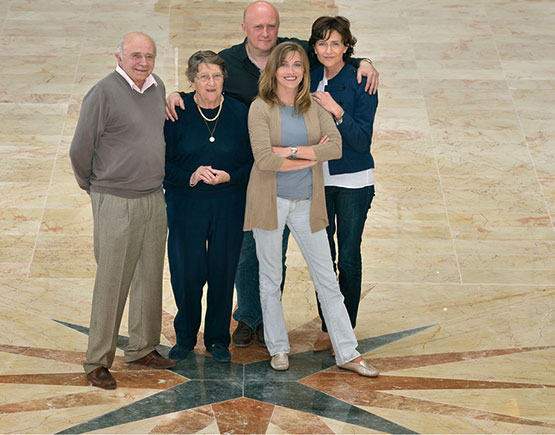 Paradis
As the guardian of a treasure unveiled over time, the Cellar Master rigorously monitors the aging of the cognac in the dark and humid ambiance of the cellars. Some cognacs will age for more than 50 years in a basement that bears the poetic name of Paradis. In the heart of which alcohol vapors are slowly released over time to produce the well-known Part des Anges (Angels' Share).