Lafite-Rothschild
Lafite-Rothschild Vieille Reserve Armagnac
Vieille Reserve, In Basket, Bottling 1970"s
Provenance: Besch Cannes, 10/31/2015
Interested in this bottle?
Please leave your email address here.
For Customer Service related questions such as:
Placing an Order
Sales Question
New Account Setup
Call: (954) 429-6329, or
Contact us via Email
| | |
| --- | --- |
| Size | 70 cl |
| Vintage | Non-vintage |
| Alcohol | 43.0 % |
| Bottled | 1970 |
| Fill level | High shoulder |
| Maturation | Vieille Réserve |
| Packaging | Straw Basket |
| Shape | Bordeaux |
Armagnac
Armagnac is France's oldest and most prestigious wine-based eau-de-vie. In the 16th century, it was sold over the counter in pharmacies as a "medicine". Armagnac began to be aged in oak barrels in the 17th century. Nowadays, the Armagnac region can be divided into three production areas: Bas-Armagnac, Ténarèze and Haut-Armagnac. Unlike Cognac, Armagnac is comprised of a broad palette of grape varieties, each very different, allowing for a very particular aromatic balance: Bacco adds to the wine's structure and lends it full-bodied, rich and dense aromas that require long ageing processes to fully express their roundness, smoothness and length on the palate. Folle Blanche, on the other hand, provides freshness and fruitiness in the first years of ageing. Ugni Blanc, ideal for distilling, as well as Colombard, are the final names on the region's list of most common grape varieties. When aged for 15 years or more, Armagnac displays flavours of hazelnut, orange peel, cocoa, and prunes combined with aromas of rose, verbena, leather, vanilla and even cinnamon. These Armagnacs are very dense and rounded and fully express their soil. After 25 years, Armagnacs lose their potency and mellow. Their original character gives way to oak barrel fragrances and their length on the palate becomes truly remarkable.
Lafite-Rothschild
(We currently have no information available on this brand)
A cognac label of a wine producer
Lafite Rothschild is a premier cru Bordeaux house. In the mid-eighties of the last century, at that time the business was managed by Yves Le Canu; they started selecting cognac. Originally it was for the château's consumption after the phenomenal receptions and meals hosted by the family.
Very old cognacs
This project, initiated by Eric de Rothschild, in collaboration with a cognac producer, who wishes to remain unexposed, is a cognac assembled from very old cognacs (at least older than fifty years) from the Grande Champagne and border districts.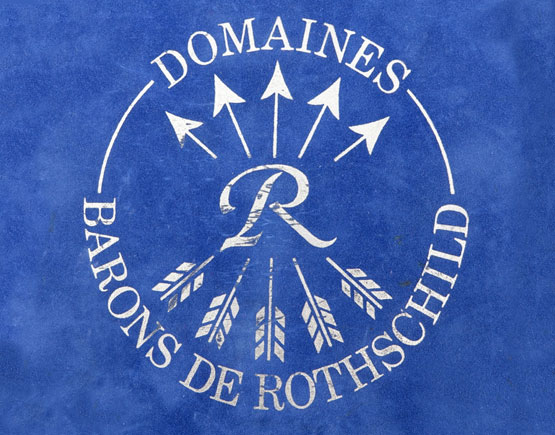 Lafite Rothschild Très Vieille Réserve
Some of their direct importers in the world wanted that exclusive selected, blended cognac and Lafite Rothschild began to distribute a limited number of bottles, on a yearly base, to their network of importers. Lafite Rothschild Très Vieille Réserve comes in a straw basket. The logo of Lafite and the five arrows can be seen on the label, 70cl and 40,5% ABV. The line of merchandise was extended to an Armagnac, sourced from one of the best négociants in the region