---
Léopold Brugerolle
Cognac Léopold Brugerolle
Léopold Brugerolle, Fine Charente, Bottled in 1960
Provenance: Tajan, 10/18/2000

World's Largest collection
3-5 day U.S.A. delivery
Secure payment
Call Us 954-607-7386
Email Us
| | |
| --- | --- |
| Size | 1 ltr |
| Vintage | Non-vintage |
| Alcohol | 39.0 % |
| Bottled | 1960 |
| Button | No button |
| Fill level | Mid neck |
| Packaging | No casing |
| Region | Fine |
| Shape | Cognaçaise |
Cognac
Renowned throughout the world, the production of Cognac has been regulated by its very own AOC since 1909. Only liqueurs from eaux-de-vie made from crus from the controlled appellation area of Cognac can be labelled as such. This liqueur must be distilled and aged on-site in compliance with authorised techniques: double distillation in a copper Charentais still, ageing in oak barrels for a set minimum ageing period.
A good Cognac is subjected to a complex manufacturing process. It is never made from the eau-de-vie of a single cru, but from a `marriage' of eaux-de-vie that vary in age and cru - some as old as a hundred. To establish the age of a Cognac, only the number of years spent in oak casks or barrels are taken into account. As soon as an eau-de-vie is decanted into a glass recipient, it ceases to age. The longer it is left to age, the more a Cognac gains in complexity, fragrance, aromas and taste (spiced, pepper and cinnamon flavours).
Please note that only Cognacs made exclusively from Petite and Grande Champagne (50% minimum) can use the "Fine Champagne" appellation.
Léopold Brugerolle
As far back as the late 1700s, the Brugerolle family were farming the vines, producing eaux-de-vie and beginning to supply their products to local businesses. The founder of the cognac house, Leopold Brugerolle, not only supplied restaurants around the country – including those in Paris – but also found his cognac being requisitioned by French military officers. By 1847, Cognac Brugerolle had established itself in Matha, Charente Maritime, and continued to produce a wide range of cognacs. The house was passed down through the generations, along with the secrets and traditions of each cellar master from father to son. In 1987 the house of Cognac Brugerolle was incorporated into the Compagnie de Guyenne (CDG). This is the collaboration created by Meukow Cognac, which along with marketing their own cognacs, concentrates on sustaining smaller, family run cognac houses and providing them with the distribution network and might of a larger corporation.
Léopold Brugerolle
The Cognac Brugerolle House creation dates back to 1847 by Etienne Brugerolle. Today, Mr. Claude Brugerolle, 5th generation and Vice-President of CDG International is perpetuating 166 years of tradition. The fame of Cognac Brugerolle is coming from the meticulous and precise selection and blending of the best eaux-de-vie. As a proof, the 45 awards won by the Cognac Brugerolle at many international contests: First prize in Athens 1928, Rotterdam 1928, Cairo 1929, Barcelona 1929, Liege 1930, Antwerpen 1930, Paris 1931 to be seen in the old buildings in Matha city. More recently in 2005, their Aigle Rouge quality was awarded a Gold Medal at the Paris Vinalies an international tasting competition.
Style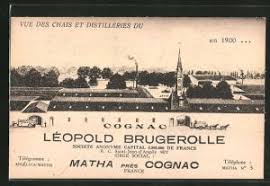 Situated in the Fins Bois area, Brugerolle Cognac blends the region's fruity eaux-de-vie along with those from Grande and Petite Champagne. The result is a range of "Premium Cognacs" offering their customers traditional and authentic Cognacs with a beautiful lengthy aroma, subtle fruit and wood flavors enhanced by a floral bouquet. A wide range of consumers can enjoy this Cognac.