---
Cognac 1920 Gautier Frères
Presumed 1920's, 20 years of age, Brandy, Bottled in the mid 1950's (presumed)
Provenance: Sotheby's Paris, 11/11/1998
This Gautier's Cognac Brandy has been kept in wood for over 20 years. The history of Gautier goes back several centuries. In the XVIIth century, the Gautiers had a forest of oak trees from which barrels were made for ageing Cognac. In 1644, Gautier's history meets up with Cognac when Charles Gautier married a winegrower's daughter Jacquette Brochet. But it was Charles' grandson, Louis, who succeeded in obtaining a Royal Warrant in 1755, for the production of the henceforth protected title of the region's eau-de-vie Cognac as we know today. 1920 - 1929. It is sometimes referred to as the Roaring Twenties or the Jazz Age, when speaking about the United States and Canada. In Europe the decade is sometimes referred to as the "Golden Age Twenties" because of the economic boom following World War I.
Questions about this piece?
Some details:

Size
70 cl
Vintage
1920
Vintage text
Presumed 1920's
Alcohol
40.0 %
Bottled
1950
Fill level
Top shoulder
Shape
Cognaçaise
Cognac
Renowned throughout the world, the production of Cognac has been regulated by its very own AOC since 1909. Only liqueurs from eaux-de-vie made from crus from the controlled appellation area of Cognac can be labelled as such. This liqueur must be distilled and aged on-site in compliance with authorised techniques: double distillation in a copper Charentais still, ageing in oak barrels for a set minimum ageing period.
A good Cognac is subjected to a complex manufacturing process. It is never made from the eau-de-vie of a single cru, but from a `marriage' of eaux-de-vie that vary in age and cru - some as old as a hundred. To establish the age of a Cognac, only the number of years spent in oak casks or barrels are taken into account. As soon as an eau-de-vie is decanted into a glass recipient, it ceases to age. The longer it is left to age, the more a Cognac gains in complexity, fragrance, aromas and taste (spiced, pepper and cinnamon flavours).
Please note that only Cognacs made exclusively from Petite and Grande Champagne (50% minimum) can use the "Fine Champagne" appellation.
Gautier Frères
(We currently have no information available on this brand)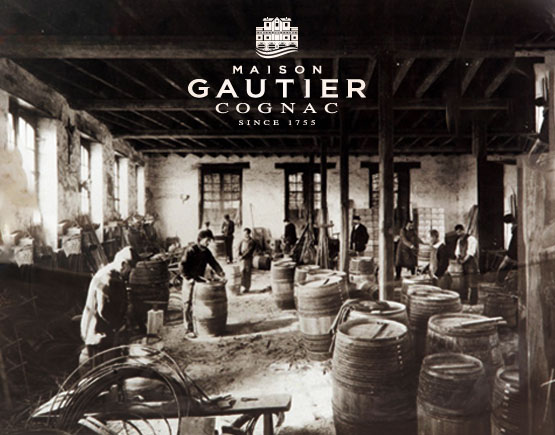 The Gautier family
The Gautier family, originally foresters in Saint-Armand-Montrond in the Cher department, moved to Aigre in the 17th century to sell their barrels. In 1644 Charles Gautier married to Jacquette Brochet, daughter of a winegrower. It was probably through this marriage the family got to hold on some vineyards. Around 1700 his grandson Louis Gautier, Sieur de la Plaine, was producing cognacs and became a merchant. In 1755 Louis' grandson, also called Louis, founded the Gautier company in the same year that he obtained a Royal Warrant from Louis XV for producing cognacs.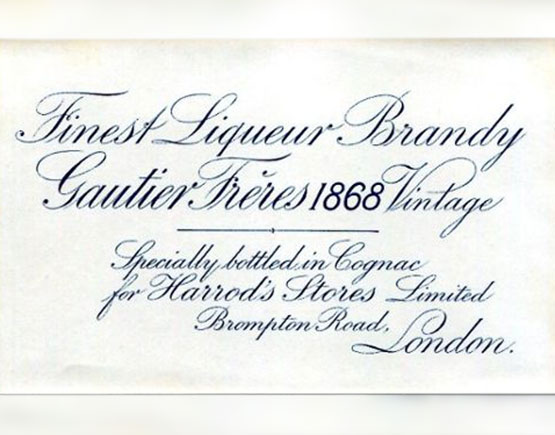 Gautier
Aigre seems a bit off-center for a cognac merchant, but actually, Aigre had some significant advantages. It was on the road to Paris - there weren't that many roads in those days – and taxes were much lower for cognac transported over land compared to transport over the river Charente. So we see four important cognac traders in Aigre in the year 1804, while in Cognac there were six. This number was a relatively huge concentration. During the years they were all bought by Gautier, who was doing very well.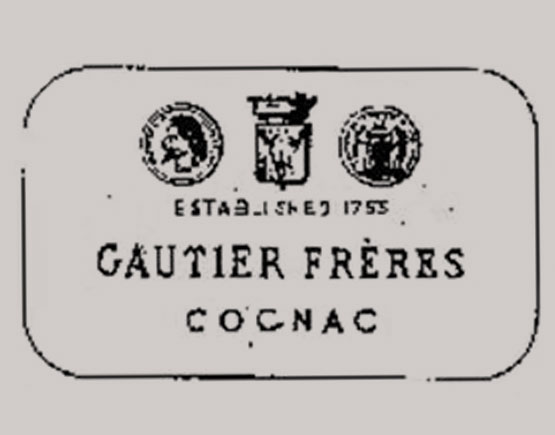 Several name changes
Gautier has had several name changes. After Louis's death, his wife Marie Andrée Faure took control, and the name became Veuve Gautier from 1783 till 1796. Her sons then changed the name into Gautier Frères, a name that they have kept until 1952. Joseph Gautier was the last real Gautier in charge of the company. He was married to Marie Sophie Elisabeth Castillon du Perron, a descendant of the founder of Pinet, Castillon & Co.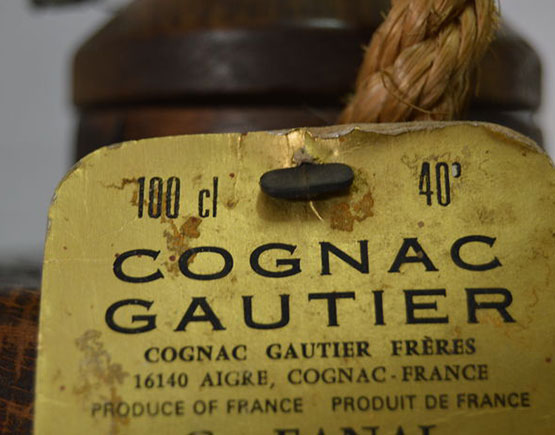 Gautier-Gemaco
Their daughter Simone Gautier married to Michel Hériard-Dubreuil, who was related to the Rémy Martin and Frapin families, his brother married Anne Marie Renaud, heir of Rémy Martin and Frapin). So after Joseph Gautier's dead in 1913, Michel Hériard-Dubreuil became director of the Gautier firm and after him his son Gonzague. He was the one who first changed the name Gautier Frères into Gautier & Cie. in 1952 and to Gautier S.S. in 1969. In 1961 Gautier-Gemaco was founded.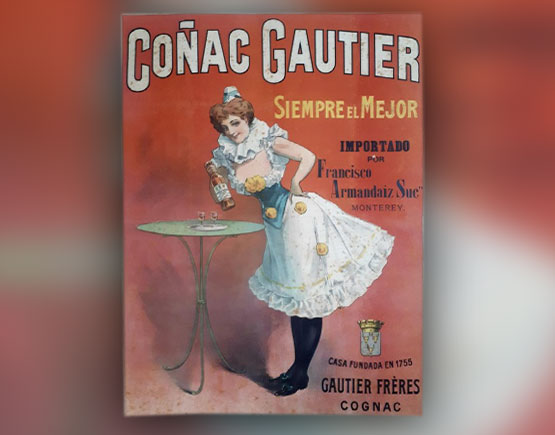 Other brands
Gemaco was an already existing organization of several landowners/winegrowers that was established in 1920 and was taken over by Gautier. Then in 1975 - others maintain it was in 1970 - Gautier-Gemaco joined the Berger group, the famous pastis company. It seems Gautier-Gemaco remained a fairly independent subsidiary. They acquired four important other brands in the 1970s: Combeau in 1972, based in Cognac, and Faucon d'Or de Laage (St. Savinien-sur-Charente), Normandin (Chateauneuf) and Girard (Tonnay-Charente) all in 1976.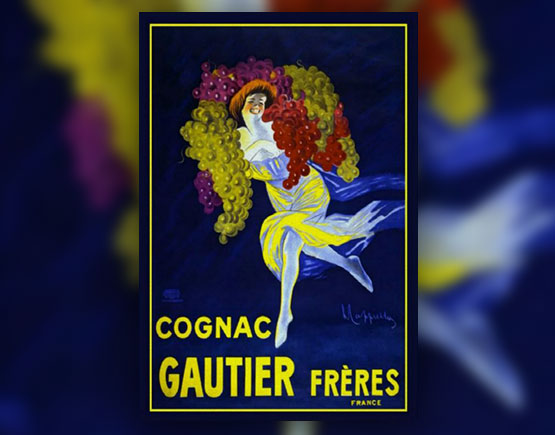 An old mill near the river
When Marie Brizard bought Berger in 1995 (called Marie Brizard Wine & Spirits since 2015), Gautier-Gemaco kept its relative independence. In 2006 Marie Brizard became a part of the Belvédère group. Of the cognac brands they still produce today, Gautier is by far the most important. Cellar master of Gautier today is Isabelle Couprie, descendant from a long line of distillers in the grande champagne region. Gautier has owned some vineyards in the past, but not anymore, nor do they distill anymore. It is a business of buying, aging, and selling.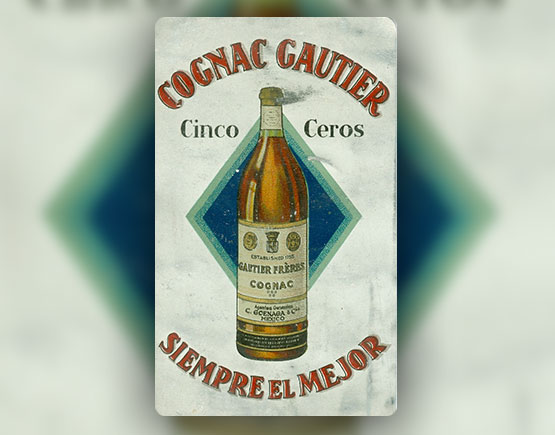 Guinness World Records
The circumstances for aging are exceptional because the cellars, similarly located on a little isle in the North-east of Aigre - formed by two branches of the river Aume or Osme – providing a humid environment and resulting in more 'round' cognacs. Their 'chateau,' an old mill near the river, built initially for grain, is now used for their emblem. In the past, they used three deer heads on a shield with a crown on top. Interesting to know is that Gautier holds the record for the oldest bottle of cognac in the world. It is a 1762 bottle, officially recognized by Guinness World Records.