---
Cognac 1906 Marmot
Napoléon, Réserve du Patron, Grande Champagne, Bottle No. 01920
Provenance: Private purchase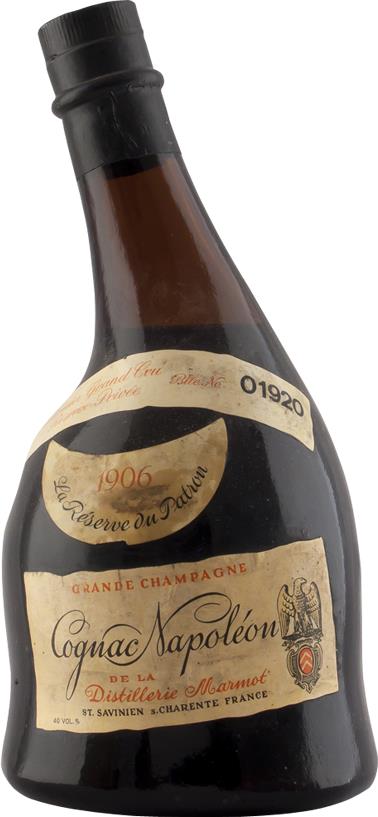 Notre Cognac est le produit naturel des vins récoltés et distillés dans la région de Cognac et expédiés avec l'Acquit Régional Cognac délioré par l'Acquit Régional.
Questions about this piece?
Cognac
Renowned throughout the world, the production of Cognac has been regulated by its very own AOC since 1909. Only liqueurs from eaux-de-vie made from crus from the controlled appellation area of Cognac can be labelled as such. This liqueur must be distilled and aged on-site in compliance with authorised techniques: double distillation in a copper Charentais still, ageing in oak barrels for a set minimum ageing period.
A good Cognac is subjected to a complex manufacturing process. It is never made from the eau-de-vie of a single cru, but from a `marriage' of eaux-de-vie that vary in age and cru - some as old as a hundred. To establish the age of a Cognac, only the number of years spent in oak casks or barrels are taken into account. As soon as an eau-de-vie is decanted into a glass recipient, it ceases to age. The longer it is left to age, the more a Cognac gains in complexity, fragrance, aromas and taste (spiced, pepper and cinnamon flavours).
Please note that only Cognacs made exclusively from Petite and Grande Champagne (50% minimum) can use the "Fine Champagne" appellation.
Marmot
(We currently have no information available on this brand)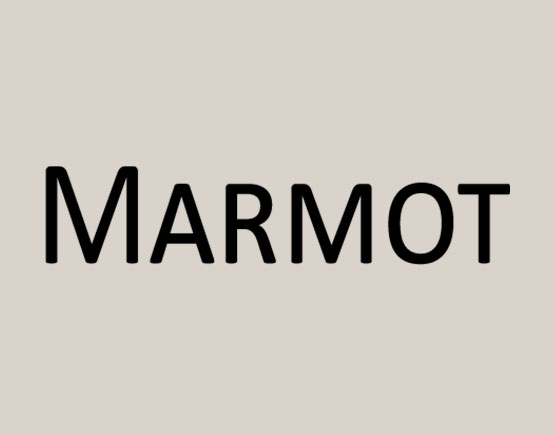 Grande Champagne
After two distillations, cognac mainly from the Grand Champagne area is stored and aged in French oak barrels. The location of Grande Champagne is in the heart of the Cognac country. It gives birth to excellent and refined spirits, very thin and light, with a floral bouquet. They demand long aging in casks, to reach maturity after several decades.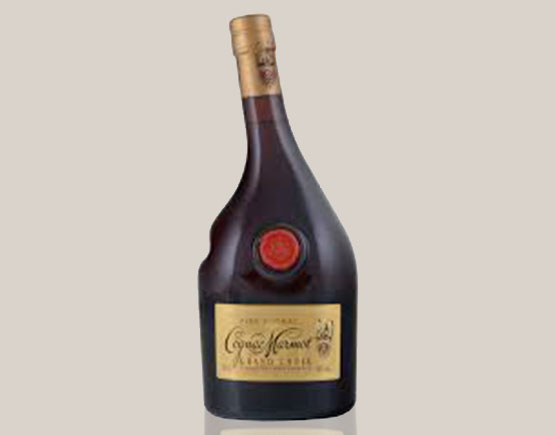 Bouteille Krumm
The Marmot Cognac Grand Champagne owes the extraordinary composition of the aromas and nuances. These give the Marmot Cognac Grand Champagne a fresh scent of grapes and tropical vanilla, accompanied by pleasant wood tones. The Marmot Cognac is offered in the standalone "Bouteille Krumm" bottle, which is its distinctive trademark.