---
Cognac 1893 Raynal & Co
Extra Vielle, Grande Fine Champagne, Wax shoulder button
Provenance: Artus, 7/9/1999

Réserve de la Mainon Raynal & Co, L. Saulnier successeur, 70 cl The number 3 is prevalent throughout our company's history and several legends have arisen surrounding the origin of the icon of the three barrel s. Some say it refers to the maximum amount of barrels that smugglers could carry on their boats during Napoleon's blockade of the British Isles. Others, that it represents the alliance of fire, water and earth: elements integral to the production of the best eaux-de-vie. March 1893 - Côte d'Ivoire becomes a French colony. The Independent Labour Party of the UK has its first meeting. Gandhi arrives in South Africa where he will live until 1914, he led non-violent peaceful protests on behalf of Indiah immigrants in Transvaal. The first car number plates appear in Paris, France.
Questions about this piece?
Some details:

Size
70 cl
Vintage
1893
Alcohol
40.0 %
Bottled
1943
Button
Wax shoulder button
Fill level
High shoulder
Maturation
Extra Vielle
Region
Grande Fine Champagne
Seal
Original wax seal
Shape
Paillarde
Cognac
Renowned throughout the world, the production of Cognac has been regulated by its very own AOC since 1909. Only liqueurs from eaux-de-vie made from crus from the controlled appellation area of Cognac can be labelled as such. This liqueur must be distilled and aged on-site in compliance with authorised techniques: double distillation in a copper Charentais still, ageing in oak barrels for a set minimum ageing period.
A good Cognac is subjected to a complex manufacturing process. It is never made from the eau-de-vie of a single cru, but from a `marriage' of eaux-de-vie that vary in age and cru - some as old as a hundred. To establish the age of a Cognac, only the number of years spent in oak casks or barrels are taken into account. As soon as an eau-de-vie is decanted into a glass recipient, it ceases to age. The longer it is left to age, the more a Cognac gains in complexity, fragrance, aromas and taste (spiced, pepper and cinnamon flavours).
Please note that only Cognacs made exclusively from Petite and Grande Champagne (50% minimum) can use the "Fine Champagne" appellation.
Raynal & Co
(We currently have no information available on this brand)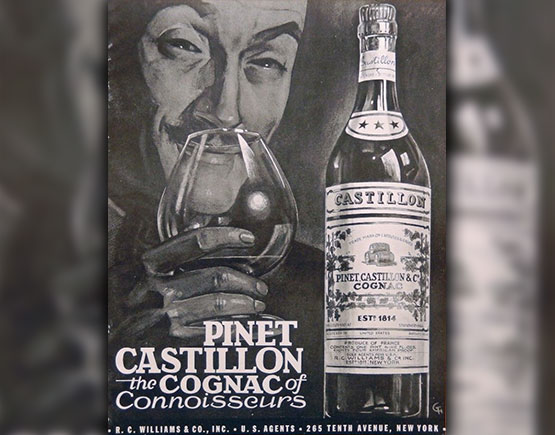 Raynal & Co
Raynal & Co is traced its founding to 1814 with Pinet Casillion company and a logo that showed three stacked barrels. In 1840 Raynal was later founded in Jarnac of the Cognac region in France. The brandy became popular enough that the logo became more identifiable than the company so "Three Barrels Brandy" was marketed in Britain beginning in 1947.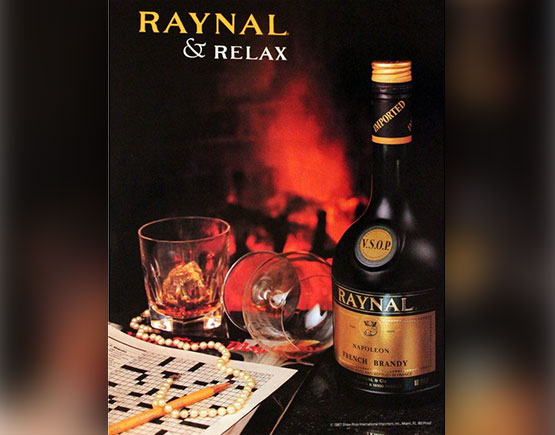 William Grant & Sons
Raynal & Cie has been blending French "eaux-de-vie" of the most excellent quality. This more than 150-year-old tradition gives their cognacs a vibrant bouquet and silky smooth taste. Pellisson acquired the Raynal company in 1975. William Grant & Sons acquired Raynal & Co in October 2005.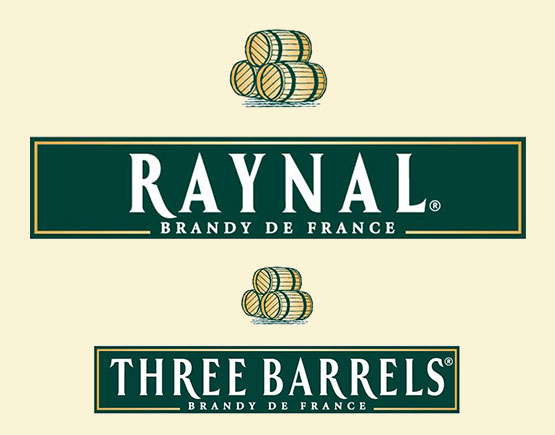 Three Barrels
Three Barrels is a brand of non-appellation cognac by Raynal & Cie that has been claimed to be the best selling brandy in the United Kingdom with annual sales of over 2.5 million bottles. Despite these numbers, it does not appear in the 2015 list of the "World's ten largest brandy & Cognac brands" published by The Spirits Business. Although the company's location is still in the commune of Cognac, one of the rigorous set of clearly defined standards, the beverage does not meet the Appellation d'origine contrôlée (AOC) criteria to call itself a cognac. It just does not meet the 40% ABV requirement in contrast to their old vintages.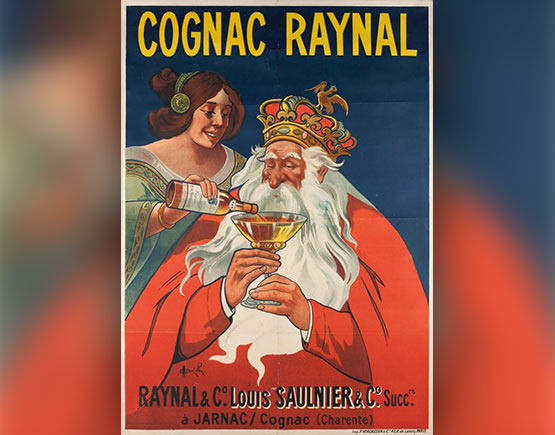 The meaning of Three Barrels
Since the establishment of the brand, it is marketed with a logo depicting three stacked barrels, which, rumor has it, was the maximum number of barrels transportable on a sled pulled by huskies in Canada. While other experts claim that three barrels take its name from the exclusive use in its blend of cognacs sourced from the three famous French wine regions of Burgundy, Bordeaux, and Champagne, on the other hand, there are some people saying that three barrels reflect the maximum of barrels a smuggler could carry practicing his profession.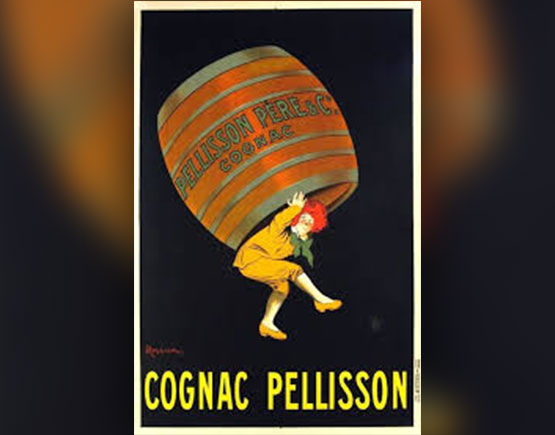 Famous poster
In 1907 the notable designer Leonetto Cappiello designed a famous poster for 'Cognac Pellisson' depicting a woman carrying a barrel on her back. In 2013 a rebranding exercise was carried out by Robson Dowry.