---
Cognac 1893 Frapin
Extra Vielle, Grand Age, Réserve, Grande Fine Champagne
Provenance: Christies Switzerland, 5/1/1997

Nous garrantissons que le contenu de cette bouteille est du Cognac authentique, c'est-à-dire le produit du vin récolté et distillé dans les premiers crùs des Charentes. La livraison avec acquit Régional 1909, ajoute à notre garantie celle de l'Etat Français.
The FRAPIN family has been established in the South West of France since 1270, initially as a family of wine-growers. They then became distillers and have continued in this tradition for 20 generations. The Grande Champagne region, Premier Grand Cru du Cognac was where the family chose to settle. They established their headquarters in the Fontpinot Castle at Segonzac.
March 1893 - Côte d'Ivoire becomes a French colony.
Questions about this piece?
Some details:

Size
70 cl
Vintage
1893
Alcohol
40.0 %
Bottled
1935
Classification
Réserve
Fill level
High shoulder
Maturation
Extra Vielle
Region
Grande Fine Champagne
Shape
Normande
Cognac
Renowned throughout the world, the production of Cognac has been regulated by its very own AOC since 1909. Only liqueurs from eaux-de-vie made from crus from the controlled appellation area of Cognac can be labelled as such. This liqueur must be distilled and aged on-site in compliance with authorised techniques: double distillation in a copper Charentais still, ageing in oak barrels for a set minimum ageing period.
A good Cognac is subjected to a complex manufacturing process. It is never made from the eau-de-vie of a single cru, but from a `marriage' of eaux-de-vie that vary in age and cru - some as old as a hundred. To establish the age of a Cognac, only the number of years spent in oak casks or barrels are taken into account. As soon as an eau-de-vie is decanted into a glass recipient, it ceases to age. The longer it is left to age, the more a Cognac gains in complexity, fragrance, aromas and taste (spiced, pepper and cinnamon flavours).
Please note that only Cognacs made exclusively from Petite and Grande Champagne (50% minimum) can use the "Fine Champagne" appellation.
Frapin
The Frapin family was one of the first in the region: The family used to produce wine and distill Cognac for more than twenty generations. This is quite remarkable.
The family is well connected in the whole area of Charente and Cognac: Today, 80 year old Max Henry Cointreau manages the Cognac house – he is part of the dynasty of Remy Cointreau. His wife Geneviève Renaud is the daughter of Marie Frapin. It is rather unusual that such a company remains family-run for such a long time.
Frapin owns their own wineyards and executes the whole process from grape to the finished bottle. The Cognacs of Frapin age at one quarter in new Limousin oak barrels and the rest of it in older casks.
Frapin offers all the Cognac qualities from VS on. Probably the best product is the Cuvée 1888 from very old eaux-de-vie of the Grande Champagne area. Connoisseurs find notes of the Folle Blanche grapes in it, which used to be a very present wine variety before the vine fretter (Viteus vitifolii) catastrophe.
Some Frapin Cognac still are offered as Château de Fontpinot today.
Winegrowers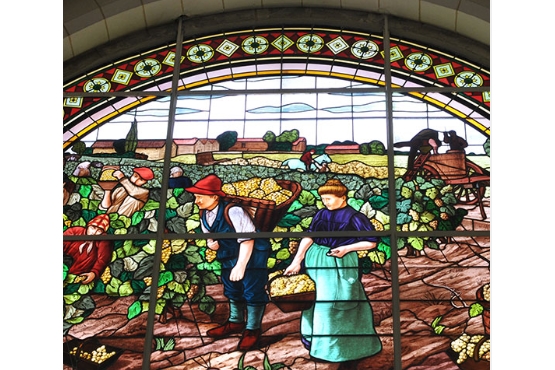 Initially establishing themselves as a family of winegrowers near the village of Segonzac in 1270. They then became distillers and have continued in this tradition for 20 generations.
The Fontpinot Castle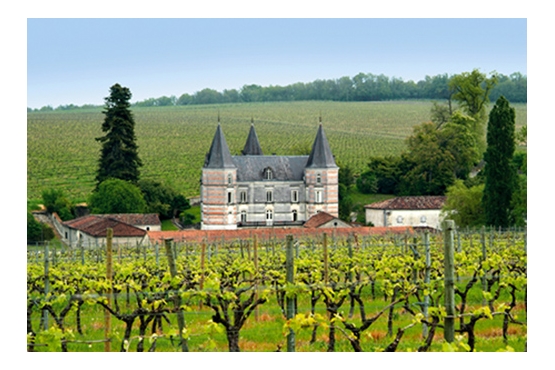 The Grande Champagne region, Premier Grand Cru du Cognac was where the family chose to settle. Frapin can trace its rich and storied history in this region to 1270, and it is still owned by a direct descendant of the original founder today. Henri Frapin adds three towers to the Chateau Fontpinot, finally completing the Chateau as we know it today.
21 generations of the Frapin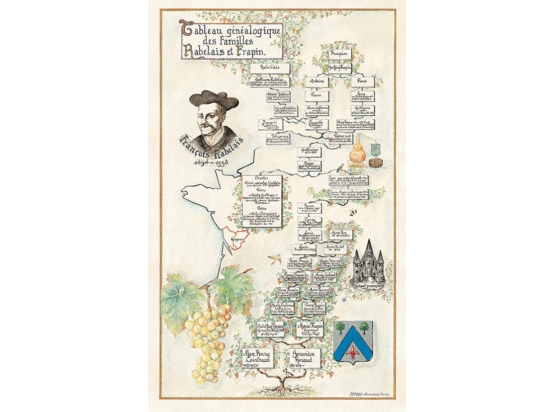 In 1494 Anne Catherine Frapin wife of Antoine Rabelais gives birth to François Rabelais. His nephew Jehan is made "Maitre Queux-Sommelier" by King Francois I in 1534. This role gives him full dominion over the kitchens and the key to the king's cellar. In 1697 King Louis XIV awards a coat of arms to his apothecary, Pierre Frapin. The Frapin family coat of arms is born, made up of the fleur-de-lys, symbolizing the king, and two trees, lepidodendrons, a symbol of apothecaries.
Art Nouveau movement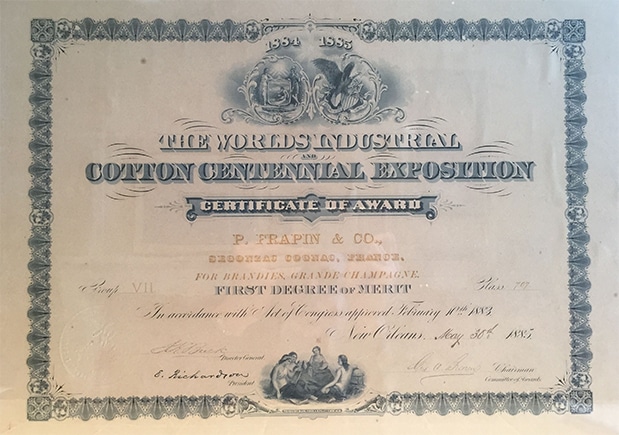 In 1885 the cognac house receives their first award, Cognac Frapin wins a 'First Order of Merit' award at the International Exposition of New Orleans. Gustave Eiffel himself awards a gold medal to Pierre Frapin. Gustave Eiffel and his team construct the iron framework of the Chai de Segonzac at the Frapin Estate. This is the only example of Eiffel's work in the region.
Award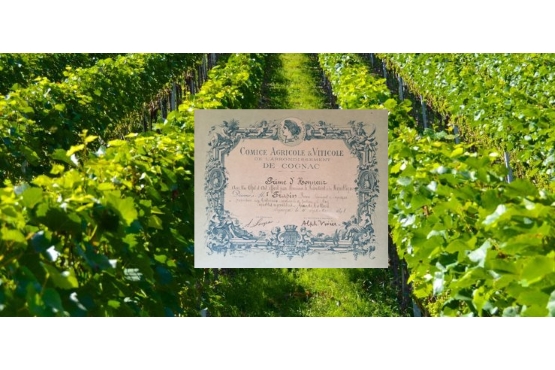 Pierre Frapin is rewarded in 1898 by the Agricultural Committee of Cognac, with honour for "Reconstituted vineyards: great culture".
More awards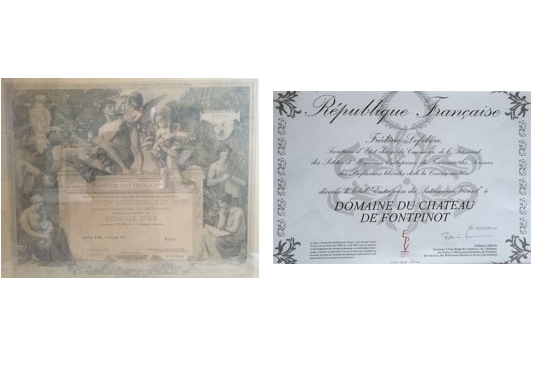 Cognac Frapin wins a gold medal in 1900 at the Exhibition Paris. 1904 to 1927 Diplomas Cognac Frapin is awarded "Grand Prix' at Universal and International Exhibitions in St Louis (1904), Milan (1906), Brussels (1910) and Madrid (1927), 2008 "Best Spirit in the World" Multimillesime #1 is voted "Best Spirit in the World" at the International Spirits Challenge (ISC). A first for a cognac! 2012 Cognac Frapin is awarded the mark "Entreprise du Patrimoine Vivant" (EPV). The EPV mark is a recognition of excellence and is awarded by the French State to companies with a long heritage who continue a tradition and uphold rare, renowned or ancestral skills. To date, only three cognac companies have received the EPV mark.
"Excellence Francaise"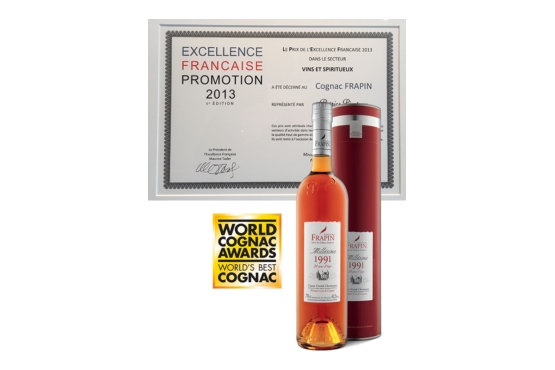 2013 "Excellence Française" Cognac Frapin is given the "Excellence Francaise" label. Set up in 2009, each year Excellence Francaise selects the most dynamic companies and institutions in France. The award recognizes the talent, creativity, and innovation of the people from these companies in promoting (the influence of) France around the world. Frapin Cognac Vintage 1991 wins the title of "Best Cognac of the Year" at the International Spirits Challenge (ISC) in London.
"Multimillesime no 6"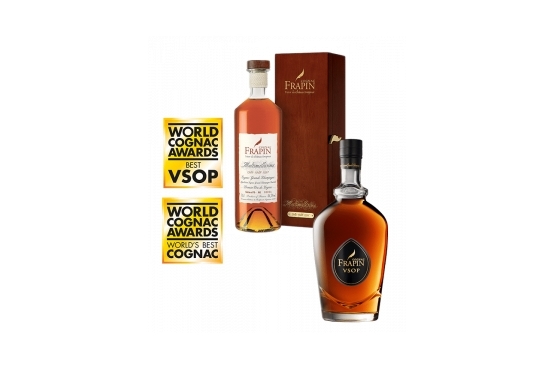 The Frapin Cognac "Multimillesime no 6" is voted "Best Cognac in the World" by the World Cognac Awards.
Present day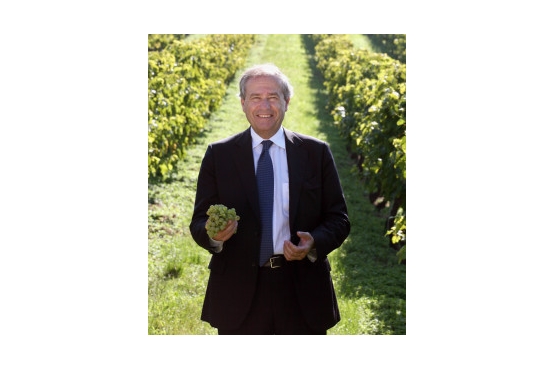 Geneviéve, the wife of the liqueur producer Max Cointreau, is the second daughter of Renaud, the former owner of Rémy Martin (her eldest sister, Anne-Marie, brought in her marriage with Hériard-Dubreuil 51% of Rémy Martin). From her mother, Geneviéve inherited the cognac house Frapin. In 1986, the ' Heritiers Renaud-Cointreau ' bought another cognac house, Chateau Paulet. Today Jean-Pierre Cointreau, grandson of Marie Frapin, is CEO of Cognac Frapin.