---
Cognac 1890 Justerini & Brooks
Justerini & Brooks, Very Superior Liqueur Brandy
Provenance: Sotheby's London, 10/18/2000

Imported and sold by Justerini & Brooks, foregin wine, liqueur and spirit merchants. By appointment, to Her Majesty The Queen, wine merchants. 153 New Bond Street, London, W.I. 70° proof
Questions about this piece?
Some details:

Size
70 cl
Vintage
1890
Alcohol
40.0 %
Bottled
1950
Classification
Supérieur
Fill level
Top shoulder
Shape
Cognaçaise
Cognac
Renowned throughout the world, the production of Cognac has been regulated by its very own AOC since 1909. Only liqueurs from eaux-de-vie made from crus from the controlled appellation area of Cognac can be labelled as such. This liqueur must be distilled and aged on-site in compliance with authorised techniques: double distillation in a copper Charentais still, ageing in oak barrels for a set minimum ageing period.
A good Cognac is subjected to a complex manufacturing process. It is never made from the eau-de-vie of a single cru, but from a `marriage' of eaux-de-vie that vary in age and cru - some as old as a hundred. To establish the age of a Cognac, only the number of years spent in oak casks or barrels are taken into account. As soon as an eau-de-vie is decanted into a glass recipient, it ceases to age. The longer it is left to age, the more a Cognac gains in complexity, fragrance, aromas and taste (spiced, pepper and cinnamon flavours).
Please note that only Cognacs made exclusively from Petite and Grande Champagne (50% minimum) can use the "Fine Champagne" appellation.
Justerini & Brooks
(We currently have no information available on this brand)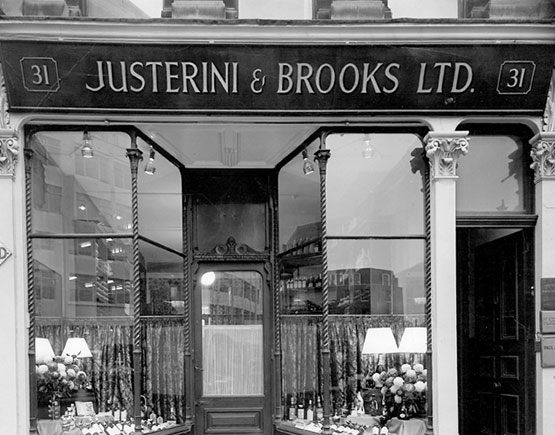 Justerini & Brooks
Justerini & Brooks established in 1749 with the purpose of providing wines and spirits to the London upper class. Still today its clientele exists mainly of high-end collectors as well as hotels, restaurants, and clubs but they have expanded to almost fifty countries now. Giacomo Justerini was an Italian who came to London in 1749.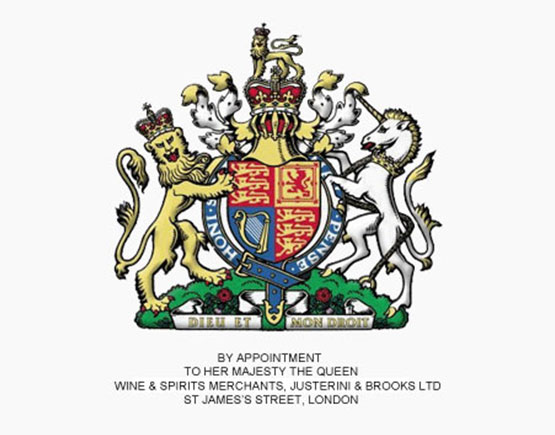 Royal Court
Together with George Johnson, they founded Johnson & Justerini. Justerini went back to Italy in 1760 after selling his shares to Johnson. In 1831 Augustus Johnson, grandson of George, sold the company to Alfred Brooks, who renamed it Justerini & Brooks. They have been suppliers to the English Royal Court from 1761 (King George III) up till today.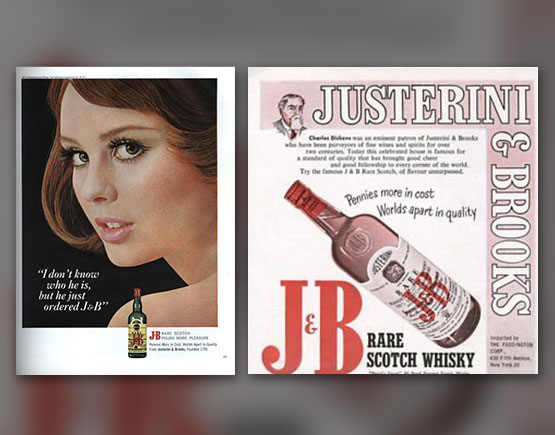 Mergers and Acquisitions
During the years Justerini & Brooks has seen some mergers and acquisitions. In 1962 they merged with W&A Gilbey to form International Distillers and Vintners, and in 1972 they became part of Grand Metropolitan who then joined with Guinness to become Diageo. Justerini & Brooks is now Diageo's the oldest ancestor company.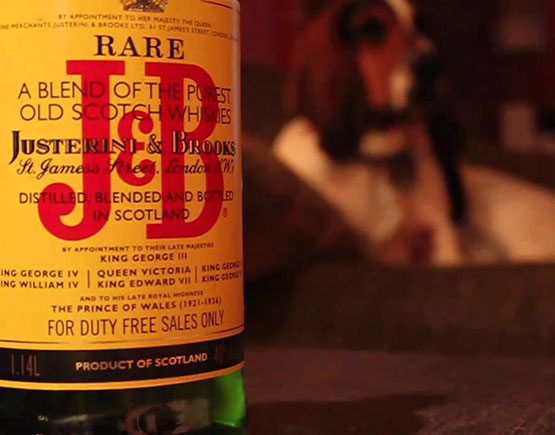 J&B
They are agents for many famous wine and liquor brands: Petrus for Bordeaux for instance and Delamain and Hine for cognac. But they also sell wines and liquors under their name. The very famous Scotch whiskey brand J&B is the house brand of Justerini & Brooks.