A.E. DOR
Cognac 1889 A.E. DOR
Très Vieille, No. 2, Excellence, Grande Champagne
| | |
| --- | --- |
| Vintage | 1889 |
| Alcohol | 35 % |
| Button | Glass shoulder button |
| Classification | No. 2 Excellence |
| Fill level | Top shoulder |
| Maturation | Très Vieille |
| Packaging | No casing |
| Region | Grande Champagne |
| Size | 70 cl |
Cognac
Renowned throughout the world, the production of Cognac has been regulated by its very own AOC since 1909. Only liqueurs from eaux-de-vie made from crus from the controlled appellation area of Cognac can be labelled as such. This liqueur must be distilled and aged on-site in compliance with authorised techniques: double distillation in a copper Charentais still, ageing in oak barrels for a set minimum ageing period.
A good Cognac is subjected to a complex manufacturing process. It is never made from the eau-de-vie of a single cru, but from a `marriage' of eaux-de-vie that vary in age and cru - some as old as a hundred. To establish the age of a Cognac, only the number of years spent in oak casks or barrels are taken into account. As soon as an eau-de-vie is decanted into a glass recipient, it ceases to age. The longer it is left to age, the more a Cognac gains in complexity, fragrance, aromas and taste (spiced, pepper and cinnamon flavours).
Please note that only Cognacs made exclusively from Petite and Grande Champagne (50% minimum) can use the "Fine Champagne" appellation.
A.E. DOR
Jean Baptiste Dor, who was a doctor of medicine, established this highly regarded company in 1858 in the town of Jarnac. His son, Amedée Eduard Dor, gave the company its name in 1889.
From 1922 till 1972 the firm was headed by Noël Denieul-Dor who in 1951 got permission to sell cognacs below 40 percent of alcohol. He maintained that part of his stock had reached this low percentage only through natural evaporation. AE Dor still is the only company who is allowed to do so.
In 1972 Dor became property of the Benedictine group, owned by the Legrand family. The firm was run by Philippe Mitterand (brother of François Mitterand, former president of France).
In 1982 Odile Rivière bought AE Dor. AE Dor had two important things going for them. One: a fenomenous stock of very old cognacs, some of them dating back to the pre-phylloxera era, and secondly Odile Rivière who proved to be an excellent maître de chai. Her blends are among the best in the world.
Note: some writers claim Odile Rivière was a descendant of the Dor family. She was not!
1992: tragical death of Odile Rivière in a car accident. Her husband Jacques Rivière took over together with Philippe, his brother. After some years Pierre-Antoine, son of Jacques and Odile, also joined them.
In 2016 they join the Unicognac groupe and at the same time they became a subsidiary of the Coöperative Charentes Alliance. Owner of AE DOR, Pierre-Antoine Rivière, is of course still the managing director as they remain very independant.
AE Dor has always been a business firm. They buy cognacs and age them in their cellars. Just a few years ago they acquired sixty hectares of vineyard and the harvest of this vineyards are distilled in the alambics of a company that has family ties with AE Dor, supervised by Béatrice Coussy who is cellar master at AE Dor and who has been educated by Odile Rivière.
Their vineyards are mostly in the grande champagne area, but also some in petite champagne, borderies and in fins bois.
Some other brands that have been produced by AE Dor are:
Albert Jarraud
Coudert
Dantan
Desbordes
Fouché
Goudert
Hubert
Jarraud, Albert
Lehmann
Maison Rouge

They have also produced cognacs for Haus Grashoff, a famous restaurant in Bremen (Germany).
Dor still has some cognacs of the year 1805, but are reluctant to market them.
They mainly make grande and petite champagne cognacs.
Range (many old ones are not for sale anymore):
1805, Soleil d'Austerlitz, 30%
1811 Roi de Rome, Très Vieille Fins Bois 31%
1834, Prince Albert, Gr. Ch., 30%
No. 1 from the year 1893, Gr. Ch., age d'Or, 36% logo: the D of Dor within a laurel
No. 2 from the year 1889, Excellence, 35% wreath, with a crown on top
No. 3 from the year 1875, Prince Impérial, 36%
No. 4 from the year 1858, Napoleon III, 37%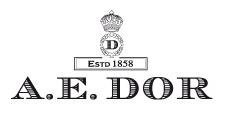 No. 5 from the year 1840, Louis Philippe, 34%
No. 6 Gr. Ch., 40%
No. 7 Gr. Ch. 42%
No. 8 Gr. Ch. 47%
No. 9 Gr. Ch. and old Fins Bois, 40%
No. 10 Gr. Ch., 41%
No. 11, Gr. Ch., 43%
The numbers 9, 10 and 11 were distilled and blended by Odile Rivière and are not made any more. The numbers 6, 7 and 8 are still being produced.
Some of the very old bottles, like the 1805, can still be produced on demand. But they are not cheap!
No. 1 Albane (not to be confused with the old no. 1 form 1893)
VSOP, Napoléon and XO.
Sign of Time.

source: cognac-ton.nl
THE MAISON
A.E. DOR
In 1858 Amédée-Edouard Dor, the eldest son of a noble Cognac family embarked on his lifelong passion. Keen to preserve the Cognacs at their very peak, when he felt they had reached optimum maturity in their oak barrels, Amédée decanted the Cognacs into wax sealed glass demijohns so that future generations could enjoy and experience his lifelong work. Today, many of these precious vessels remain intact and untouched, quietly resting in The Paradis, which has remained unchanged for over 200 years and now forms the very heart and soul of the modern A.E. Dor.