---
Cognac 1830 Brut Absolu Berry Brothers & Rudd
Brut Absolu, Grande Fine Champagne
Provenance: Sotheby's, 11/17/1999
Careful inquiries have been made as to the real age of this remarkable Brandy, and we have been able to ascertain that it has remained om the same family of wealthy proprietors of Genté, in the heart of the Grande Champagne, ever since it has been made. Our friends in the Charente have known this family for over 60 years and are absolutely certain that the Brandy is really 1830 and that it has never been touched or refreshed. Natural strength 37° u.p. Sykes.
Questions about this piece?
Some details:

Size
70 cl
Vintage
1830
Alcohol
40.0 %
Bottled
1970
Classification
Brut Absolu
Fill level
Low shoulder
Region
Grande Fine Champagne
Shape
Cognaçaise
Cognac
Renowned throughout the world, the production of Cognac has been regulated by its very own AOC since 1909. Only liqueurs from eaux-de-vie made from crus from the controlled appellation area of Cognac can be labelled as such. This liqueur must be distilled and aged on-site in compliance with authorised techniques: double distillation in a copper Charentais still, ageing in oak barrels for a set minimum ageing period.
A good Cognac is subjected to a complex manufacturing process. It is never made from the eau-de-vie of a single cru, but from a `marriage' of eaux-de-vie that vary in age and cru - some as old as a hundred. To establish the age of a Cognac, only the number of years spent in oak casks or barrels are taken into account. As soon as an eau-de-vie is decanted into a glass recipient, it ceases to age. The longer it is left to age, the more a Cognac gains in complexity, fragrance, aromas and taste (spiced, pepper and cinnamon flavours).
Please note that only Cognacs made exclusively from Petite and Grande Champagne (50% minimum) can use the "Fine Champagne" appellation.
Berry Brothers & Rudd
(We currently have no information available on this brand)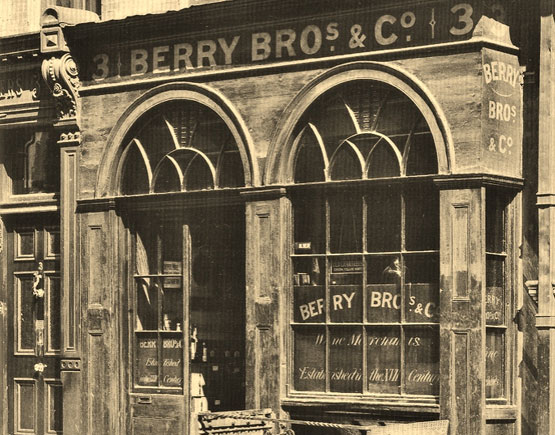 Berry Brothers & Rudd
For roughly 200 years now, Berry Brothers & Rudd sell cognacs under their own name. The do not produce them their selves, but they are made by other well-known cognac houses in France. BB&R is a very old firm, established in London in 1698 by the Widow Bourne. The address, 3 St. James's Street, has never changed since and business is flourishing. They own two Royal Warrants, one from the Queen and the other from the Prince of Wales. The very first Royal Warrant they received was from King George III in 1760.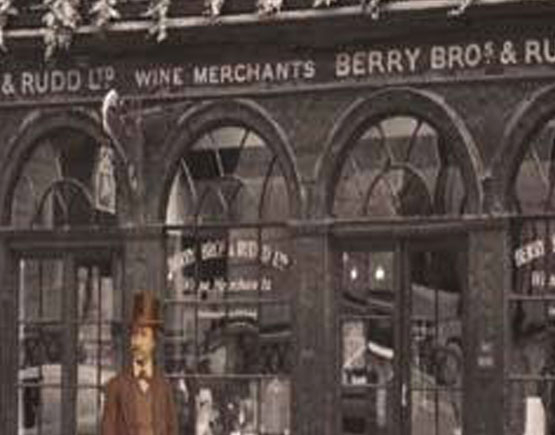 St. James's Street
The address, 3 St. James's Street, has never changed since and business is flourishing. They own two Royal Warrants, one from the Queen and the other from the Prince of Wales. The very first Royal Warrant they received was from King George III in 1760.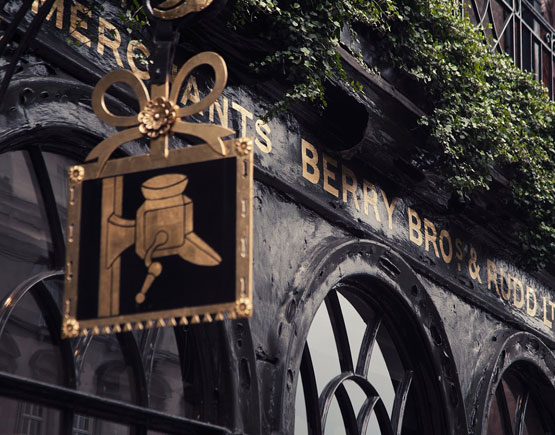 Coffee Mill
When the Widow Bourne started the business, it was grocery store. In the middle of the 18th century business was focussing more and more on coffee, a new and then very fashionable commodity. In this period of time they choose a coffee mill for their emblem and made a sign of it that has hung outside their store ever since. The store was often referred to as 'The Sign of the Coffee Mill'.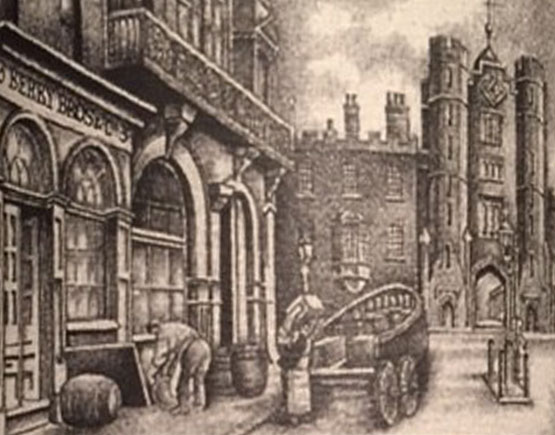 Name changes
Until now descendants of the widow have remained owners of the firm. Two of them, the brothers George Jr. Berry and Henry Berry, gave it its name Berry Brothers & Co. in the 19th century. In 1920 they partnered with Hugh Rudd who had a great knowledge of France wines, e.g. Bordeaux. There has been many name changes in the company, the last one was in 1940 when it changed to Berry Bros. & Rudd Ltd.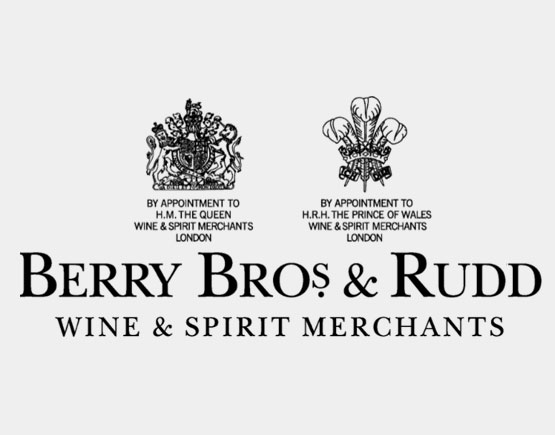 Cognac, wine, whisky
Form the early 19th century they more and more began focussing on wine. They kept expanding and have become a world-famous wine and spirits merchant that now have their own wine cellars with millions of wine bottles. For several decades in the 20th century they also have been bottling their own wines.
In 1923 they started a whisky brand, Cutty Sark, that soon became very popular in the American market and has a world-wide repute today.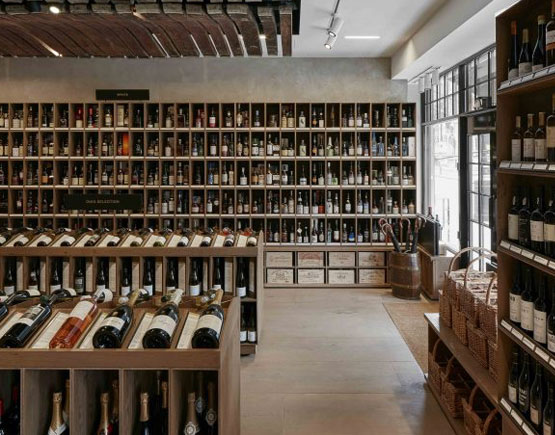 Quality
Quality has always been a central point of attention regarding their products. They have collaborated with many famous houses like Hine, Frapin, Auger, Delamain and others. Very often these were vintage cognacs that today are still much sought-after.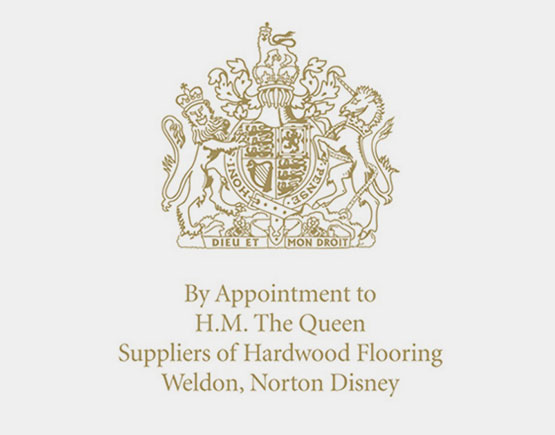 Early Landed cognacs
They are called 'Early Landed cognacs', because soon after being distilled they were shipped to the United Kingdom in barrels, in order to age in moist cellars near the chalky shores. For many years, some even up to fifty, they underwent the influence of the maritime climate to produce smooth, well-balanced cognacs.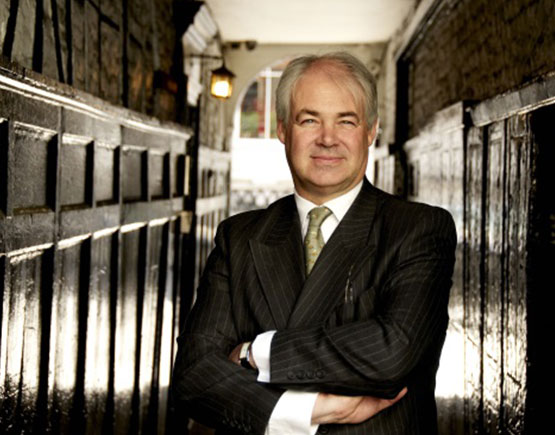 Connoisseurs
It has long been a custom to leave off the producer's original name of the label, but today most of their cognacs, not all, bear the original brand's name. The year of landing and the year of bottling are often mentioned on the label, both essential pieces of information for connoisseurs.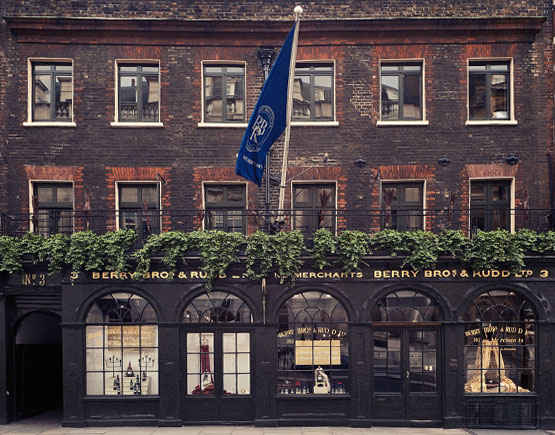 Another shop
The shop on James's Street still has an air of calm grandeur and has little changed through the years. It is a place well worth to visit. Recently another shop was opened on Pall Mall, just around the corner of James's.