Chateau Gazin was acquired by a wine merchant Louis Soualle. Soualle's daughter married into the Bailliencourt-family (Courcol), who are descendants of the high Lords of Landas.
Other events in this period:
U.S. President John Adams becomes the first President of the United States to live in the Executive Mansion, later renamed the White House. Napoleon divides France into a Roman model. At the end of 1799 till the end of 1804 he is the head of the Consulate, afterwards he becomes emperor. Just like the Roman emperors he himself appoints members that approve his decisions. In 1800 Napoleon crosses the Alps and invades Italy. In December 1800 an assault on Napoleon fails in Paris.
Interested in this bottle?
Please leave your email address here.
For Customer Service related questions such as:
Placing an Order
Sales Question
New Account Setup
Call: (954) 429-6329, or
Contact us via Email
| | |
| --- | --- |
| Size | 70 cl |
| Vintage | 1800 |
| Alcohol | 40.0 % |
| Bottled | 1946 |
| Fill level | High shoulder |
| Region | Fine Champagne |
| Shape | Cognaçaise |
Cognac
Renowned throughout the world, the production of Cognac has been regulated by its very own AOC since 1909. Only liqueurs from eaux-de-vie made from crus from the controlled appellation area of Cognac can be labelled as such. This liqueur must be distilled and aged on-site in compliance with authorised techniques: double distillation in a copper Charentais still, ageing in oak barrels for a set minimum ageing period.
A good Cognac is subjected to a complex manufacturing process. It is never made from the eau-de-vie of a single cru, but from a `marriage' of eaux-de-vie that vary in age and cru - some as old as a hundred. To establish the age of a Cognac, only the number of years spent in oak casks or barrels are taken into account. As soon as an eau-de-vie is decanted into a glass recipient, it ceases to age. The longer it is left to age, the more a Cognac gains in complexity, fragrance, aromas and taste (spiced, pepper and cinnamon flavours).
Please note that only Cognacs made exclusively from Petite and Grande Champagne (50% minimum) can use the "Fine Champagne" appellation.
Soualle & E. de Bailliencourt L.
(We currently have no information available on this brand)
Château Gazin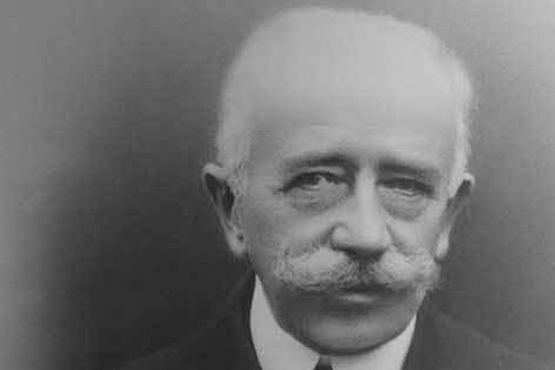 Chateau Gazin was acquired by a wine merchant Louis Soualle. Soualle's daughter married into the Bailliencourt-family (Courcol), who are descendants of the High Lords of Landas.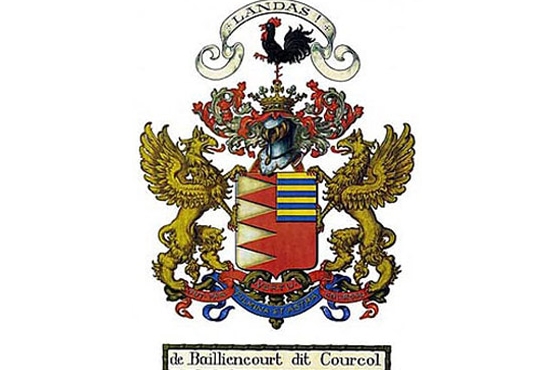 Descended from the high lords of Landas, whose crest they bear, the Bailliencourt dit Courcols belong to one of the oldest families of the Artois. The addition of "known as Courcol" goes back to 1214, when Philippe-Auguste, the King of France, congratulated one of the members of the family for his exploits during the Battle of Bouvines, calling him "court col" (literally "short neck" or of compact build). The family motto became: "fut par vertu Courcol" (Courcol through virtue).
Vineyard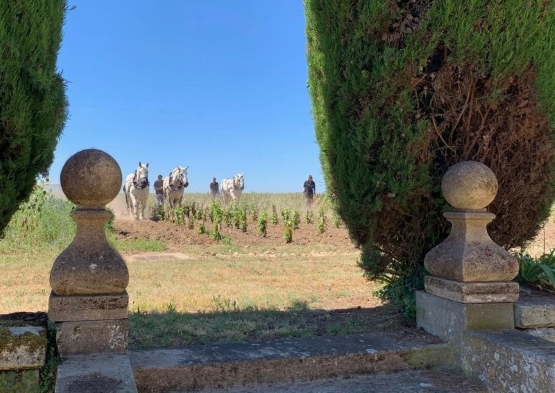 The vineyard is planted with 90% Merlot, 7% Cabernet Sauvignon and 3% Cabernet Franc. The average age of the vines is 35 years. The vines are cultivated using traditional growing methods and an environmentally-friendly approach with plowing, organic fertilizers, minimum use of pesticides (including mating disruption), and manual harvests.