---
Bourbon Old Grand Dad 1957 Bonded 86 Proof
1 Litre, Kentucky Straight Bourbon Whiskey. Label states: Made Fall 1957 Bottled Spring 1962.
Provenance: SAS Cornette de Saint Cyr, 6/15/2017
Highly collectible bottle distilled in the Fall of 1957. This classic Kentucky Bourbon was bottled in Bond in 1962 and exported to Europe.
Questions about this piece?
Some details:

Size
1 ltr
Vintage
Non-vintage
Alcohol
43.0 %
Classification
Bourbon
Fill level
High shoulder
Whisky
By the time Christopher Columbus set sail for the New World, religious orders in Scotland and Ireland had established a blooming whisky industry. In Scotland in 1494 Friar John Cor received a shipment of malt, "wherewith to make aqua vitae." While the monks used distillation to produce beverages for religious rites, Cor's delivery was large enough to produce some 1,500 bottles, indicating that whisky distillation had already transcended the spiritual world and entered the secular.
Old Grand-Dad Distillery
(We currently have no information available on this brand)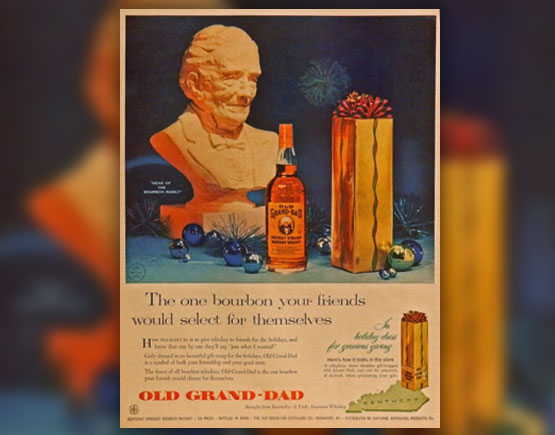 Old Grand Dad Bourbon 1960s
Old Grand-Dad is a very highly regarded traditional style bourbon. This classic Kentucky Bourbon was established in 1882 and was produced as 'medicinal whiskey' during prohibition!The unmistakable Old Grand-Dad bourbon is as traditional as they come, which might be why it has been seen in many piece of literature, including the James Bond novel 'Live and Let Die', Raymond Chandler's 'The Long Goodbye' and is mentioned rather frequently by Charles Bukowski.