---
Armagnac 1959 Marquis de Caussade
Pot, Fine Armagnac, Millésimé, Blue Butterfly Sticker on Front
Provenance: Artcurial, 6/10/2016
Questions about this piece?
Some details:

Size
2.5 ltr
Vintage
1959
Alcohol
40.0 %
Bottled
1975
Classification
Millésimé
Fill level
High shoulder
Region
Fine Armagnac
Shape
Pot
Armagnac
Armagnac is France's oldest and most prestigious wine-based eau-de-vie. In the 16th century, it was sold over the counter in pharmacies as a "medicine". Armagnac began to be aged in oak barrels in the 17th century. Nowadays, the Armagnac region can be divided into three production areas: Bas-Armagnac, Ténarèze and Haut-Armagnac. Unlike Cognac, Armagnac is comprised of a broad palette of grape varieties, each very different, allowing for a very particular aromatic balance: Bacco adds to the wine's structure and lends it full-bodied, rich and dense aromas that require long ageing processes to fully express their roundness, smoothness and length on the palate. Folle Blanche, on the other hand, provides freshness and fruitiness in the first years of ageing. Ugni Blanc, ideal for distilling, as well as Colombard, are the final names on the region's list of most common grape varieties. When aged for 15 years or more, Armagnac displays flavours of hazelnut, orange peel, cocoa, and prunes combined with aromas of rose, verbena, leather, vanilla and even cinnamon. These Armagnacs are very dense and rounded and fully express their soil. After 25 years, Armagnacs lose their potency and mellow. Their original character gives way to oak barrel fragrances and their length on the palate becomes truly remarkable.
Marquis de Caussade
(We currently have no information available on this brand)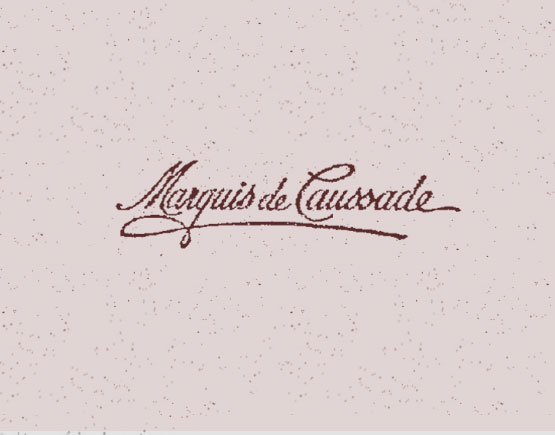 Marquis de Caussade
Marquis de Caussade is one of the leading houses of Armagnac which alone accounts for the most significant part of the Armagnac sold in the United States. The Marquis de Caussade area occupies 2.5 hectares, and the location is in the heart of the Armagnac region, in Eauze. The house has one of the largest stocks of Armagnac, spread over 13,000 m² of real property and supplies approximately 5.3 million bottles. Our collection of several unique old vintages covers an excellent example of this fine Armagnac.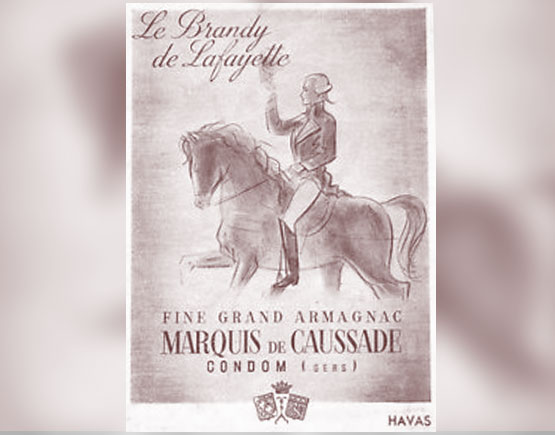 Vintage
Armagnac may only come from the regions Bas-Armagnac, Haut-Armagnac, and Teneraze. They are also, exclusively white grapes. The distillation of Armagnac should be between October to the end of March. Storage and delivery are carried out in limousine barrels. Plum, Violet or hazelnut aroma determine the taste. The Vintage plays a considerable role in the Armagnac.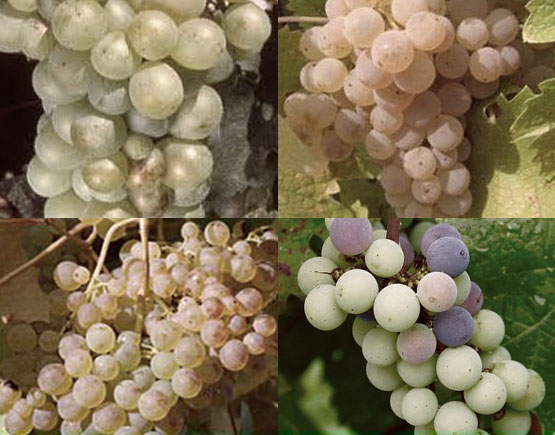 Grape varieties
The annual figures are entirely reliable, while the law also provides for mixtures, it dictates that it showed on the label. The use of nine specific grape varieties are eligible for the production of Armagnac, but they mostly only use four types for this purpose: Folle Blanche, Ugni Blanc, Colombard and Bacco.