---
Armagnac 1946 Baron de Saint-Feux
Grand Bas-Armagnac, Original wooden case, Bottled in 1996
Provenance: Christies London, 10/8/1998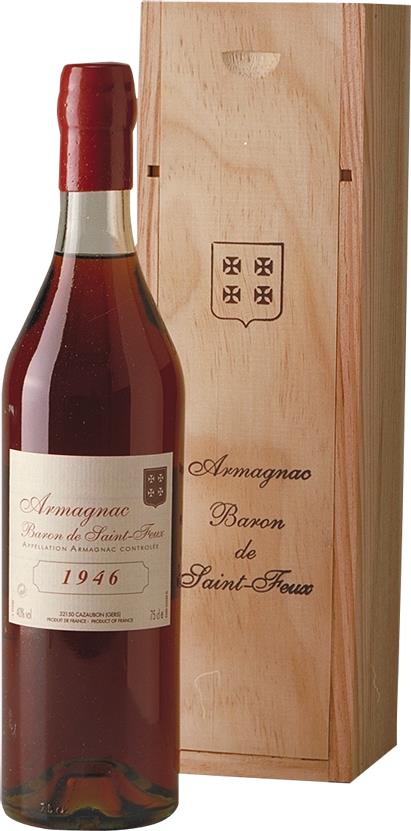 Cet Armagnac a été vieilli en fûts de chêne et a été mis en bouteille dans nos chais soous mon controle le 26 Jan 1996. Je garantis expressément l'authenticité, l'origine et la qualité de l'Armagnac millésimé contenu dans cette bouteille.
Questions about this piece?
Some details:

Size
75 cl
Vintage
1946
Alcohol
40.0 %
Bottled
1996
Fill level
Top shoulder
Packaging
Original wooden case
Region
Grand Bas-Armagnac
Shape
Cognaçaise
Armagnac
Armagnac is France's oldest and most prestigious wine-based eau-de-vie. In the 16th century, it was sold over the counter in pharmacies as a "medicine". Armagnac began to be aged in oak barrels in the 17th century. Nowadays, the Armagnac region can be divided into three production areas: Bas-Armagnac, Ténarèze and Haut-Armagnac. Unlike Cognac, Armagnac is comprised of a broad palette of grape varieties, each very different, allowing for a very particular aromatic balance: Bacco adds to the wine's structure and lends it full-bodied, rich and dense aromas that require long ageing processes to fully express their roundness, smoothness and length on the palate. Folle Blanche, on the other hand, provides freshness and fruitiness in the first years of ageing. Ugni Blanc, ideal for distilling, as well as Colombard, are the final names on the region's list of most common grape varieties. When aged for 15 years or more, Armagnac displays flavours of hazelnut, orange peel, cocoa, and prunes combined with aromas of rose, verbena, leather, vanilla and even cinnamon. These Armagnacs are very dense and rounded and fully express their soil. After 25 years, Armagnacs lose their potency and mellow. Their original character gives way to oak barrel fragrances and their length on the palate becomes truly remarkable.
Baron de Saint-Feux
(We currently have no information available on this brand)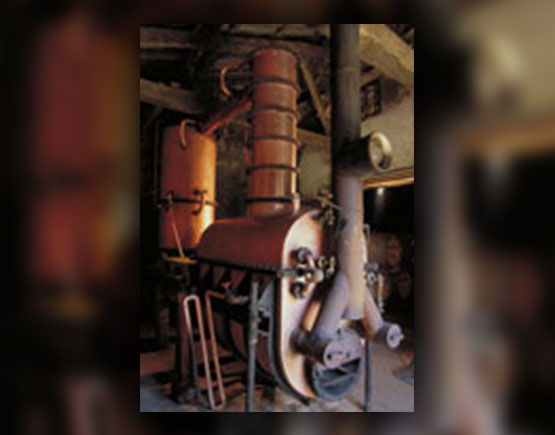 Baron de Saint -Feux
Situated on the unique red sands of the Bas Armagnac, the old vines of Baron de Saint-Feux produce ideal wines for the distillation of Armagnac. On leaving the alambic, the Armagnacs immediately are stored in new oak casks in a stone cellar that is many hundreds of years old. Taken directly from the barrels, the Baron de Saint Feux gives powerful aromas combining notes of vanilla or light spice, revealing the expression of an ancestral savoir-faire.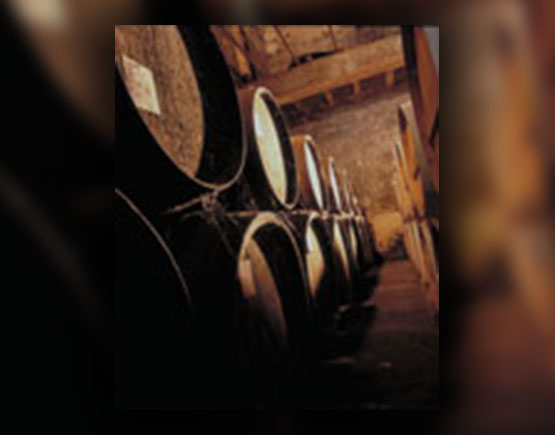 Bas Armagnac
Known for its delicate and elegant eaux-de-vie, Bas Armagnac is more and more reputed. Situated in Bas-Armagnac, the Saint Feux combines finesse with the character of an Armagnac aged in new oak casks. The passion for a terroir. The location of Baron de Saint-Feux is in Bas-Armagnac.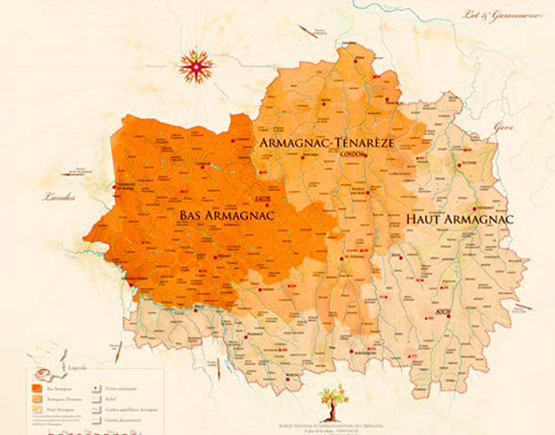 AOC
According to AOC regulation, they divided the district Armagnac into three regions: Bas-Armagnac, Haut-Armagnac, and Armagnac-Ténarèze. Each area displays very distinctive qualities and styles. Bas-Armagnac is known for its sandy soils. The Armagnacs are reputedly soft and elegant. Uniting the merits of these soils and artisanal savoir-faire, Baron de Saint-Feux offers a unique Armagnacs tasting experience.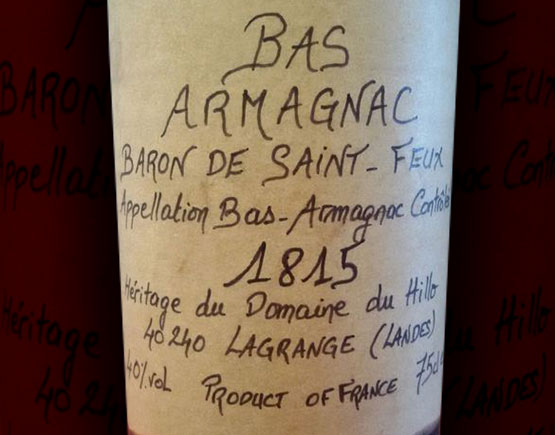 Vintages in Armagnac
Selling Armagnacs is a serious business that requires considerable knowledge and experience. Thanks to its many years of experience in this field, Baron de Saint Feux is mainly well known for its expertise with vintages. The distillation has a very crucial role to play in the creation of a good Armagnac.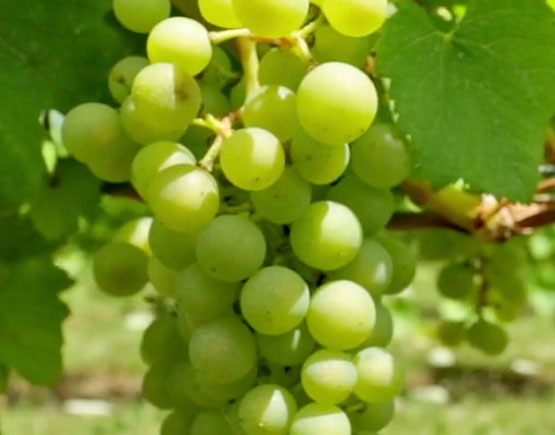 Freshness
They only select natural white wines that have the requisite qualities for distillation. The distillation involves boiling these wines to extract and concentrate the alcohol and the aromas. At Baron de Saint Feux, the distillation takes place early in the season during November so that the wines retain all of their freshness.