---
Armagnac 1944 Dartigalongue, Maison
Sélectionné par "Croix de Salles" Waxbutton with Vintage, Très Vieille Réserve, Tilted Neck Bottle
Provenance: Catawiki, 11/3/2016
Questions about this piece?
Some details:

Size
70 cl
Vintage
1944
Alcohol
40.0 %
Bottled
1972
Button
Wax button
Fill level
High shoulder
Maturation
Très Vieille Réserve
Shape
Tilted-neck bottle
Armagnac
Armagnac is France's oldest and most prestigious wine-based eau-de-vie. In the 16th century, it was sold over the counter in pharmacies as a "medicine". Armagnac began to be aged in oak barrels in the 17th century. Nowadays, the Armagnac region can be divided into three production areas: Bas-Armagnac, Ténarèze and Haut-Armagnac. Unlike Cognac, Armagnac is comprised of a broad palette of grape varieties, each very different, allowing for a very particular aromatic balance: Bacco adds to the wine's structure and lends it full-bodied, rich and dense aromas that require long ageing processes to fully express their roundness, smoothness and length on the palate. Folle Blanche, on the other hand, provides freshness and fruitiness in the first years of ageing. Ugni Blanc, ideal for distilling, as well as Colombard, are the final names on the region's list of most common grape varieties. When aged for 15 years or more, Armagnac displays flavours of hazelnut, orange peel, cocoa, and prunes combined with aromas of rose, verbena, leather, vanilla and even cinnamon. These Armagnacs are very dense and rounded and fully express their soil. After 25 years, Armagnacs lose their potency and mellow. Their original character gives way to oak barrel fragrances and their length on the palate becomes truly remarkable.
Dartigalongue, Maison
(We currently have no information available on this brand)
Dartigalongue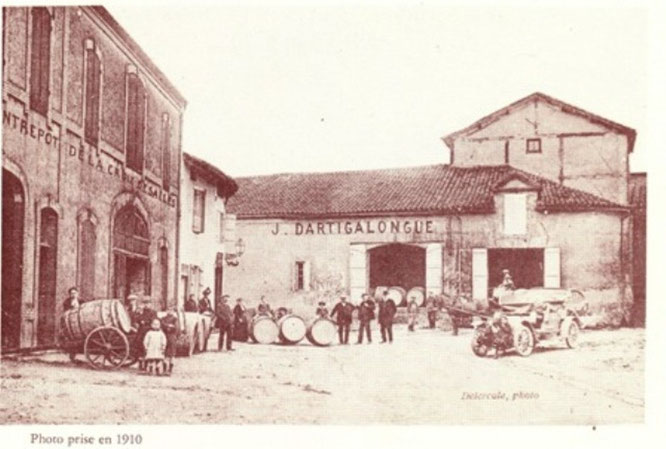 It was in 1817, under the reign of Louis XVIII that Pascal Dartigalongue was born. Coming from a family of winegrowers based in Saint Lannes near to Madiran, he spent his childhood in the heart of the vineyards surrounded by wine and Eau-de-Vie (the name of Armagnac at that time). In 1838, under the reign of Louis Philippe, he settled down in Nogaro. His beginnings were hard, but very quickly he understood that Armagnac was a product for export. His Armagnacs, sold in barrels, found markets in Belgium, Holland, England and even already in the USA. His business prospered, and sales flourished when in 1870 his nephew Joseph took over. This change saw a rapid progression for the house, helped by the creation of the railways. The export sales of Armagnac were no longer reliant on the port in Bayonne. In the 1890s, France's economy was flourishing: Paris became an important financial center, and the consumption of spirits was never as influential. Joseph, whose health was fragile, decided to pass on the company to his two sons André and Henri.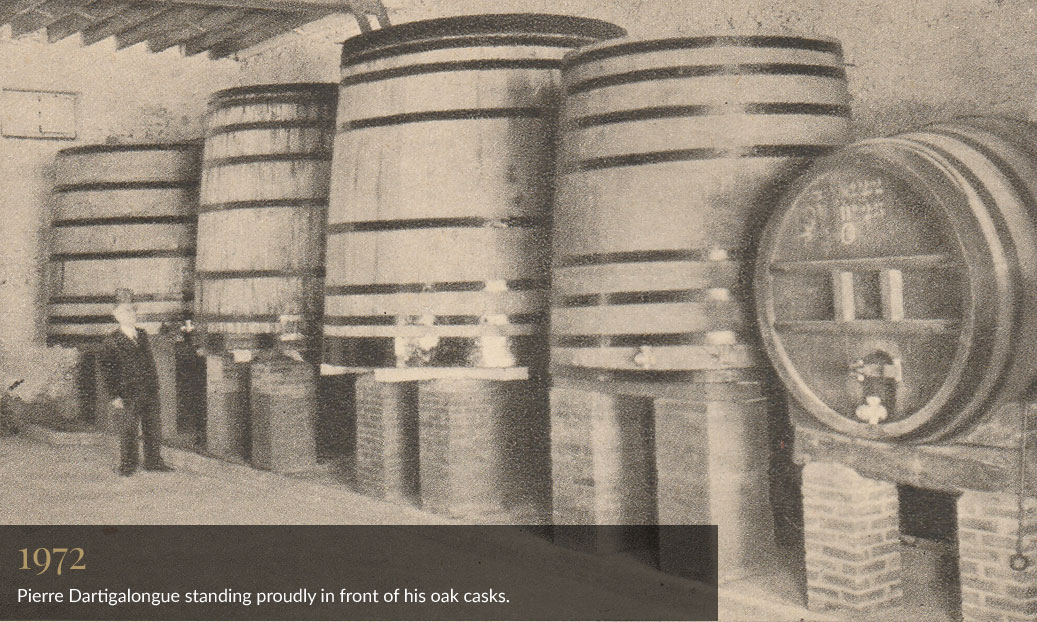 Right in the middle of the "Belle époque" André set up an agency to represent the company in Paris, while his younger brother Henri stayed in Nogaro to manage the production. This strategy was a great success, as in 1906, the vintage DARTIGALONGUE Armagnacs were on the menu at the Café de Flore, the Edouard VII, the Café Riche, and many other prestigious and luxury Parisian hotels. A very young Pierre, Henri's son, took charge of the company in 1930. He grew the bottle sales first in France and then on the export markets. In 1936, Pierre was very successful in the USA and regularly traveled on the transatlantic line from Le Harve-New York. He signed a partnership with one of the most important New York distributors that lasted for several decades. After the Second World War, Pierre continued to develop the American market and started to also tackle Europe with the countries of Belgium, Holland, Sweden, and Norway.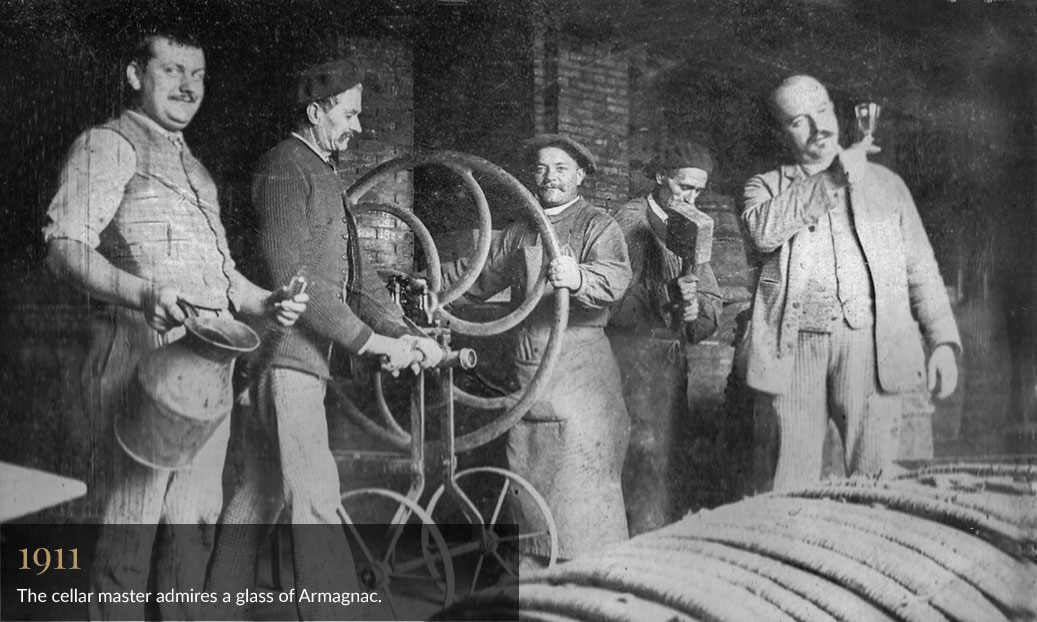 In the 1980s, he entrusted the reins of the house to his son Jean-Pierre and his daughter Françoise. Jean-Pierre developed the European markets (Spain, Italy), then the USA in the early 2000s. Françoise was responsible for structuring the sales in France to the gourmet wine and grocery shops, delicatessens, and restaurants, reinforcing the image of the DARTIGALONGUE brand nationally. In 2010, Françoise DARTIGALONGUE, then at the head of the company, convinced her niece Virginie's husband Benoit Hillion to leave his job as an agronomist in Paris to settle in Nogaro and take over the business. He took part in many different trade fairs and found new partners in Japan, Australia, Russia, and China. In parallel and continuing Francoise's work, he also travels around France meeting customers, wine and spirit merchants, and restaurateurs that are more and more numerous in their appreciation of the DARTIGALONGUE history.