---
Armagnac 1940 Castarède
Castarède, Bas, Berry Brothers & Rudd, Lavardac
Provenance: Christies, 7/8/1999

Specially selected and shipped by Berry Bros. and Rudd Ltd., 3 St. James's Street, London
Questions about this piece?
Armagnac
Armagnac is France's oldest and most prestigious wine-based eau-de-vie. In the 16th century, it was sold over the counter in pharmacies as a "medicine". Armagnac began to be aged in oak barrels in the 17th century. Nowadays, the Armagnac region can be divided into three production areas: Bas-Armagnac, Ténarèze and Haut-Armagnac. Unlike Cognac, Armagnac is comprised of a broad palette of grape varieties, each very different, allowing for a very particular aromatic balance: Bacco adds to the wine's structure and lends it full-bodied, rich and dense aromas that require long ageing processes to fully express their roundness, smoothness and length on the palate. Folle Blanche, on the other hand, provides freshness and fruitiness in the first years of ageing. Ugni Blanc, ideal for distilling, as well as Colombard, are the final names on the region's list of most common grape varieties. When aged for 15 years or more, Armagnac displays flavours of hazelnut, orange peel, cocoa, and prunes combined with aromas of rose, verbena, leather, vanilla and even cinnamon. These Armagnacs are very dense and rounded and fully express their soil. After 25 years, Armagnacs lose their potency and mellow. Their original character gives way to oak barrel fragrances and their length on the palate becomes truly remarkable.
Castarède
(We currently have no information available on this brand)
the Castarède family, the oldest house of Armagnac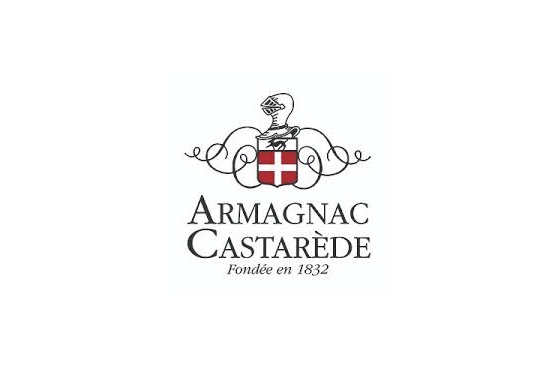 1832: Pont de Bordes, near Nérac, is the place where the first trading House of Armagnac settled with its cellars alongside an old Roman road and on a tributary of the Garonne river, the Baïse. Baron Haussmann, Deputy of Nérac between 1832 and 1839, encourages the family to get involved in the business. Thanks to him the family has traded from 1832 casks brought by carts from the Bas Armagnac region. Ennobled by King Louis XVIII in 1818; the Castarède family gave the company its name and its coat of arms. In 1832, the company was included in the trade register as the first trading House declared in Armagnac trading.
180 years of history, love and passion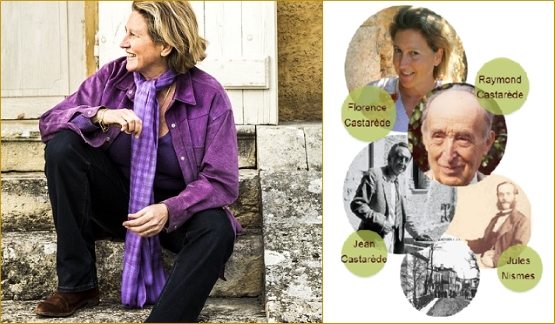 The Castarède Family has been managing and developing its activity for 6 generations and the independent family house has received the quality certification "Living Heritage Company" ( Entreprise du Patrimoine Vivant). This distinction, delivered by the French State (Ministry of Finance) is a reference of quality that testifies a French savoir-faire. Today, Florence Castarède runs the company.
A family heritage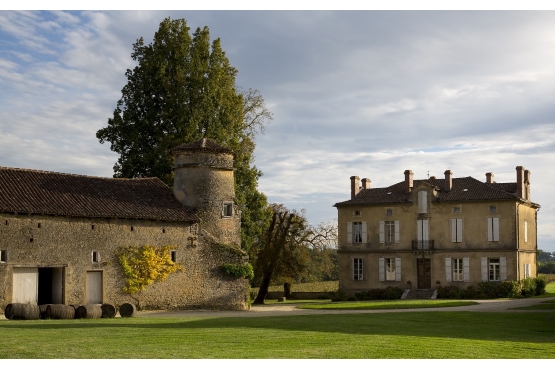 The family bought the attractive Château de Maniban in the Bas Armagnac region, considered as the most highly rated terroir of the whole Armagnac region and producing the best Eaux de vie.
The distillery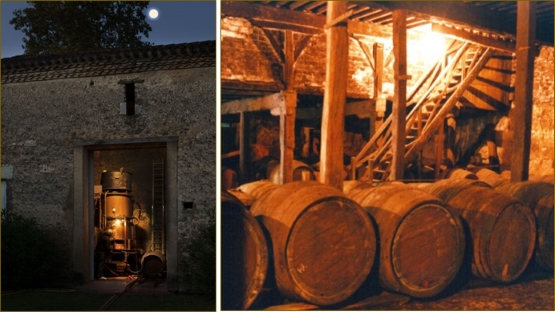 The family personally handles the entire wine-making-process, distillation, ageing in wooden oak casks and bottling, which is carried out at the Castle.
Medals

Armagnac Castarède received many National and International medals