---
Castarède
Armagnac 1931 Castarède 70cl
Armagnac Ténaréze, Bottled in 1999
Provenance: Sotheby's, 3/17/1999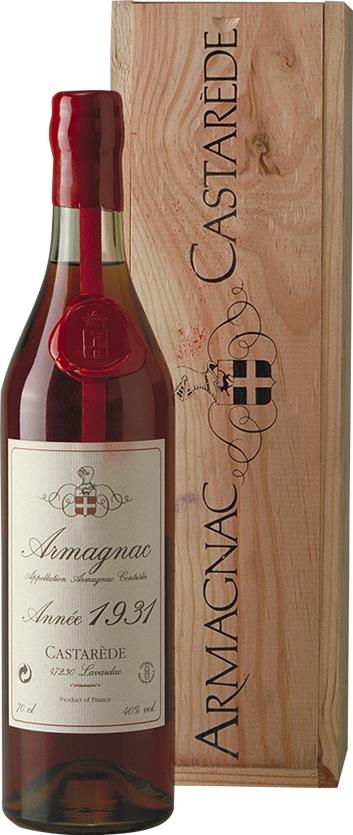 The Castarède family guarentees that all their Armagnacs were harvested and distilled in the year of their vintage. This Armagnac has been matured in casks and bottled on the 18-01-1999.
This bottle is being moved to our Miami, Florida warehouse. Leave your email address and we will notify you as it becomes available, and send you a 5% discount code for your next purchase.
World's Largest collection
3-5 day U.S.A. delivery
Secure payment
Call Us 954-607-7386
Email Us
Armagnac
Armagnac is France's oldest and most prestigious wine-based eau-de-vie. In the 16th century, it was sold over the counter in pharmacies as a "medicine". Armagnac began to be aged in oak barrels in the 17th century. Nowadays, the Armagnac region can be divided into three production areas: Bas-Armagnac, Ténarèze and Haut-Armagnac. Unlike Cognac, Armagnac is comprised of a broad palette of grape varieties, each very different, allowing for a very particular aromatic balance: Bacco adds to the wine's structure and lends it full-bodied, rich and dense aromas that require long ageing processes to fully express their roundness, smoothness and length on the palate. Folle Blanche, on the other hand, provides freshness and fruitiness in the first years of ageing. Ugni Blanc, ideal for distilling, as well as Colombard, are the final names on the region's list of most common grape varieties. When aged for 15 years or more, Armagnac displays flavours of hazelnut, orange peel, cocoa, and prunes combined with aromas of rose, verbena, leather, vanilla and even cinnamon. These Armagnacs are very dense and rounded and fully express their soil. After 25 years, Armagnacs lose their potency and mellow. Their original character gives way to oak barrel fragrances and their length on the palate becomes truly remarkable.
Castarède
(We currently have no information available on this brand)
the Castarède family, the oldest house of Armagnac
1832: Just a few years before France gets equipped with a railway and modern communication network. In the meantime, to sell Armagnac, their famous eau-de-vie traced back to Henri IV and d'Artagnan, practical facilities are created: Pont de Bordes, near Nérac, is the place where the first trading House of Armagnac settled with its cellars alongside an old Roman road and on a tributary of the Garonne river, the Baïse. Baron Haussmann, Deputy of Nérac between 1832 and 1839, encourages the family to get involved in the business. Thanks to him the family has traded from 1832 casks brought by carts from the Bas Armagnac region. For almost 50 years, Pont de Bordes first, then Condom will be the vital center in the Armagnac trading. Initially, their trading House bears the name Jules Nismes Delclou & Cie. Ennobled by King Louis XVIII in 1818; the Castarède family gave the company its name and its coat of arms. In 1832, the company was included in the trade register as the first trading House declared in Armagnac trading.
A family heritage
172 years later, the Castarède family will find the Baron Haussmann spirit again in settling in the heart of Paris (8th District), Florence Castarède opened in 2006 a showroom, a place dedicated to culture where artists, writers, and Armagnac's connoisseurs can share a glass of Armagnac in a friendly atmosphere modeled on of Henri IV and D'Artagnan. The generations succeed one another, in 1932, Raymond Castarède took over the family company. The family business which had high activity, in the beginning, has not known the development that it should have had for some reasons, in particular for geographical reasons. And in the family, there are more collectors than merchants. Very active in the local institutions ( Company of Musketeers, BNIA, the federation of Armagnac) Raymond Castarède has repeatedly promoted this Eau-de-vie from Gascony. His wife, then his son, Jean Castarède, have continued to celebrate this french brandy. Today, Jean Castarède's daughter, Florence Castarède runs the company. She does not hesitate to travel the world to share with people this extraordinary family heritage full of history, with a catching joy of living.