---
Armagnac 1928 Larressingle
Très Vieil, M. Papelorey, Grand Bas-Armagnac, Château de Larressingle
Provenance: Christies, 5/1/1997

Questions about this piece?
Some details:

Size
70 cl
Vintage
1928
Alcohol
40.0 %
Bottled
1979
Fill level
High shoulder
Maturation
Très Vieil
Region
Grand Bas-Armagnac
Shape
Cognaçaise
Armagnac
Armagnac is France's oldest and most prestigious wine-based eau-de-vie. In the 16th century, it was sold over the counter in pharmacies as a "medicine". Armagnac began to be aged in oak barrels in the 17th century. Nowadays, the Armagnac region can be divided into three production areas: Bas-Armagnac, Ténarèze and Haut-Armagnac. Unlike Cognac, Armagnac is comprised of a broad palette of grape varieties, each very different, allowing for a very particular aromatic balance: Bacco adds to the wine's structure and lends it full-bodied, rich and dense aromas that require long ageing processes to fully express their roundness, smoothness and length on the palate. Folle Blanche, on the other hand, provides freshness and fruitiness in the first years of ageing. Ugni Blanc, ideal for distilling, as well as Colombard, are the final names on the region's list of most common grape varieties. When aged for 15 years or more, Armagnac displays flavours of hazelnut, orange peel, cocoa, and prunes combined with aromas of rose, verbena, leather, vanilla and even cinnamon. These Armagnacs are very dense and rounded and fully express their soil. After 25 years, Armagnacs lose their potency and mellow. Their original character gives way to oak barrel fragrances and their length on the palate becomes truly remarkable.
Larressingle
(We currently have no information available on this brand)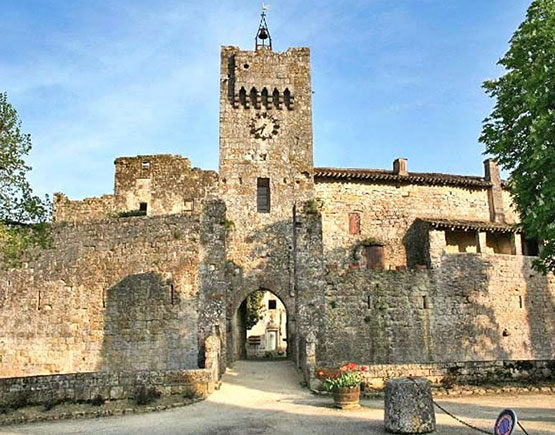 Larressingle
Founded in 1837, the Larressingle Armagnacs are a family business, well established in the heart of south-west France. Larressingle is a traditional Armagnac with old character, a legacy of the historical Larressingle fortified castle from the 13th century.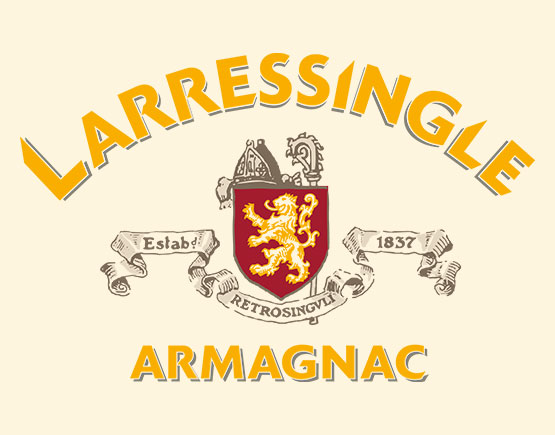 Product Range
Larressingle produces a full range of Armagnacs, reflecting the know-how of our successive cellar masters. All this in the purest Gascony tradition. Young and fiery eau de vie, the VS Armagnacs will go well with your pleasant moments and the best of cocktails. VS, VSOP, Napoléon en Millésime.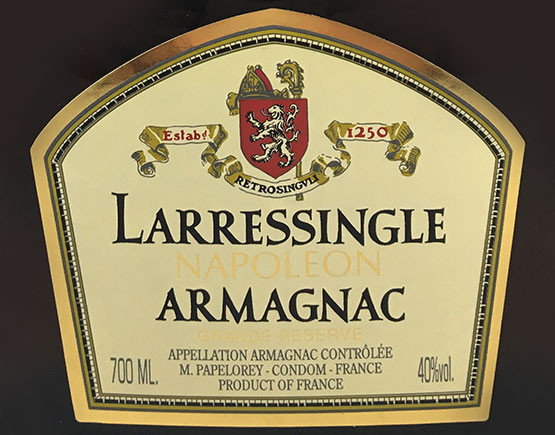 Strictly Limited
Armagnac, genuine Armagnac produced in Gascony is the result of the distillation of white wines produced from Folle Blanche, Picquepoult and Saint Emilion grapes grown in the strictly limited defined area divided into three sub-regions: Bas Armagnac, Tenareze and Haut Armagnac. Larressingle Armagnac is a product from a cross-vintage blend of distillates. Selected from wines produced exclusively in the Tenareze and Bas Armagnac districts. Bas Armagnac with its flat, sandy soils, are considered to yield sweet, fruited brandies.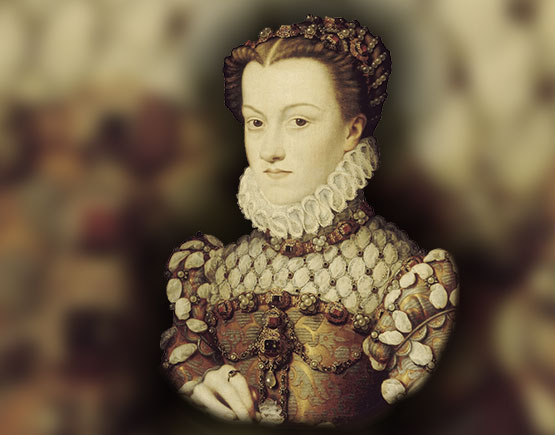 Vigilant Care
Tenareze is different in character, its limestone and clay soils producing powerful, stronger brandies becoming delicate and beautiful Armagnacs after its aging period. Once carefully selected, they store the Larressingle Armagnacs in casks during many years under the vigilant care of a family who still supervises with constant attention the complex aging process in the same spirit of tradition.