---
Armagnac 1923 Baron de Lustrac
Grand Bas-Armagnac
Provenance: Artus, 2/26/1999

L'Armagnac, c'est un pays, une partie du sud-quest de la France qui s'inscrit symboliquement dans les contours d'une feuille de vigne. L'Armagnac, c'est aussi la plus ancienne eau de vie du monde, distillée et consommée depuis 1411. Enfin, cet Armagnac est le fruit de la distillation de vins exclusivement élevés dans la région d'appellation contrôlée, vieilli en fût de chêne, et mis en bouteille exlcusivement pour vorte plaisir.
Questions about this piece?
Some details:

Size
70 cl
Vintage
1923
Alcohol
40.0 %
Bottled
1983
Fill level
Top shoulder
Region
Grand Bas-Armagnac
Shape
Cognaçaise
Armagnac
Armagnac is France's oldest and most prestigious wine-based eau-de-vie. In the 16th century, it was sold over the counter in pharmacies as a "medicine". Armagnac began to be aged in oak barrels in the 17th century. Nowadays, the Armagnac region can be divided into three production areas: Bas-Armagnac, Ténarèze and Haut-Armagnac. Unlike Cognac, Armagnac is comprised of a broad palette of grape varieties, each very different, allowing for a very particular aromatic balance: Bacco adds to the wine's structure and lends it full-bodied, rich and dense aromas that require long ageing processes to fully express their roundness, smoothness and length on the palate. Folle Blanche, on the other hand, provides freshness and fruitiness in the first years of ageing. Ugni Blanc, ideal for distilling, as well as Colombard, are the final names on the region's list of most common grape varieties. When aged for 15 years or more, Armagnac displays flavours of hazelnut, orange peel, cocoa, and prunes combined with aromas of rose, verbena, leather, vanilla and even cinnamon. These Armagnacs are very dense and rounded and fully express their soil. After 25 years, Armagnacs lose their potency and mellow. Their original character gives way to oak barrel fragrances and their length on the palate becomes truly remarkable.
Baron de Lustrac
(We currently have no information available on this brand)
Baron de Lustrac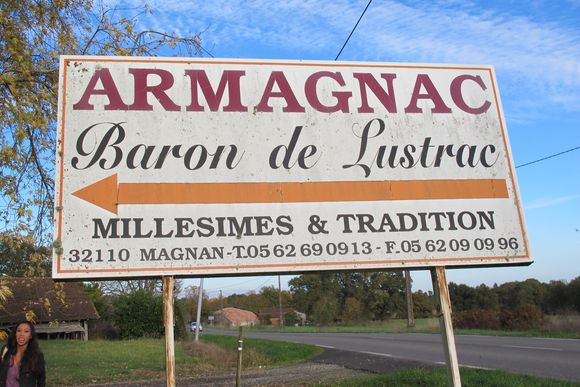 A wine tasting of 20 different Armagnac houses in the summer of 2011 has shown that the Armagnacs of the Baron de Lustrac are among the finest. They are clean and pure distilled and do not exceed the clarity of the aroma. Particular favorites are 1936 as well as the 1973 and 1986 Folle Blanche Armagnac. Origin and personality of an Armagnacs: the Armagnacs baron de Lustrac comes mainly from small farmsteads, scattered around the Gascony region of southwest France, with which exclusive contracts exist. Baron de Lustrac supervises and supervises the aging of the Armagnacs and takes care of their distribution. These privileged relations make it possible to store and age the Armagnacs at the place of their production under the watchful eye of the cellar master of Lustrac.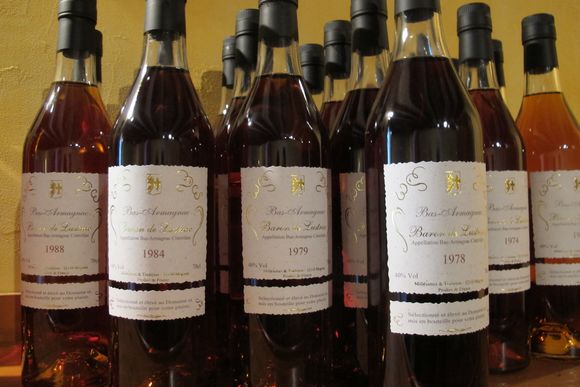 When the time comes to bottle the aged eau de vie, they can offer a wide variety of different bottle shapes. On special request, Magnum bottles, O, 2l bottles and Carafes (the latter only 50 years old Armagnacs) are available. The 50-year-old Armagnacs originate exclusively from the Domaine du Moreau from the Armagnac AOC region of Ténarèze. In the composition of a vintage-Armagnacs of the Baron de Lustrac come only the best eau de vie of the best districts, bottled after distillation in oak barrels, and there are decades of storage and maturing. The year of harvest is decisive for the vintage name. In the wooden barrel, the tannins are responsible for transforming the fresh distilled eau de vie into balanced maturity, both regarding taste and color, which can range from straw yellow to dark brown of Acajou wood. As long as the Armagnac is stored in barrels, it lives and develops further. Part of his alcohol evaporates, the so-called "part des Anges"-the angels share.